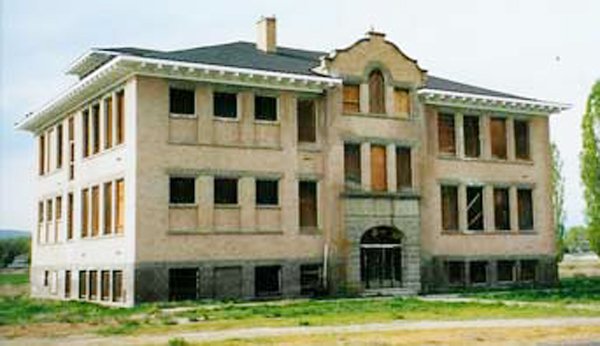 MABTON – The calendar says we're barely into 2014, yet the city of Mabton already has improvement plans mapped out for this year and beyond.
They include:
Water, sewer upgrades
The biggest and most urgent capital needs the city is addressing this year are upgrades to its wastewater and domestic water systems.
Mabton is essentially tapped out when it comes to adding more users to its wastewater system. So, with grant funds in hand, the city is planning a $6.4 million construction project to expand and update the system's wastewater treatment process.
The new facility has already been designed and two acres acquired for plant expansion. Mayor Mario Martinez says the city will select a contractor for the project in February and begin construction this year. The expanded wastewater plant is scheduled for completion in September 2015.
Mabton also has a dire need for more potable water, as evidenced by water tightening measures last summer when a well quit functioning.
To that end, the city is planning to increase its water supply with $4.8 million in upgrades. The project will include research into water production capabilities of well #3, as well as a report to determine the best location for construction of a new well. The reports come with a cost of $35,000 but will be funded through a state grant program. Martinez says the reports will be conducted this year.
Mabton has also secured a $1.2 million loan from the state with an interest rate of 1.5 percent to bring a new well on-line. Construction will start this year, says Martinez, and wrap up in 2015. He notes the city also received a $540,000 subsidy for the loan.
That still leaves about $3 million in unfunded water projects the city hopes to pursue, ranging from a new reservoir to water main improvements.
Martinez says the city will seek a loan/grant from the U.S. Department of Agriculture and a Community Development Block Grant.
The mayor adds that Mabton this year also hopes to secure additional municipal water rights, noting they will "…allow the city to meet current and future needs in a quickly changing water rights and use environment."
Mabton in 2014 is also upgrading its water supply by spending $60,000 in water fund reserves to return well #4 to service, perhaps as soon as this April. Martinez says drawing water from that well will allow the city to discontinue using well #3, which has high nitrate levels.
Street improvements
Not all of the projects eyed for 2014 are underground, as this year Mabton will see road upgrades.
That includes a WSDOT project to break ground in May that will upgrade the railroad crossing at Hwy. 241 and SR 22. The work will wrap up in September. When complete, it will widen the north and south approach lanes on Hwy. 241 from two to four lanes and improve the alignment of the intersection.
In February, the city will find out if it is the recipient of a $275,000 Yakima Valley Conference of Governments grant. If so, the money will be used to make sidewalk improvements in the Artz-Fox Elementary School area and to enclose the city's park with sidewalks.
The big ticket item on the horizon beyond 2014 is a $2.5 million project to reconstruct Mabton's Main Street from Washington Street to SR 22. For 2014, the focus will be on completing a preliminary engineering study on the Main Street upgrade. Martinez says most of the $305,000 in engineering costs will be covered through a state transportation program. Mabton will have a $45,000 match to pay, but Martinez says the city is applying for a Transportation Improvement Board grant to cover that cost.
Other projects
Besides meeting major infrastructure needs, Mabton in 2014 is set for a host of other projects.
For example, the city this year is upgrading street lights to high efficiency LED fixtures. Currently, the lights are outdated and some do not work. The price tag of $94,817 is nearly all covered through a grant with the state's Department of Commerce and incentives with Pacific Power. The city's portion of the cost is a $10,902 match.
Mabton is also looking to preserve some of its past as it looks to the future, with restoration of the old Mabton school building. Built in 1911, the cost to restore the historic structure is pegged at $3.9 million.
The city has already obtained a $800,000 grant from the Washington State Heritage Capital Projects Fund.
Martinez says the remaining funding has been secured through private financing and in-kind contributions. Design and engineering are complete for the school building's restoration, and Martinez says construction should begin this year.
One other project in the works this year is the United Methodist Church's donation of portable buildings and land for Feezell Park.
It's anticipated title transfer from the church to the city will take place in the first quarter of this year.
Martinez says once the transfer is wrapped up, the city will develop a master facility plan for the church building and surrounding Feezell Park.
Looking ahead
While there are plenty of projects on the grow in Mabton this year, the city wants to look ahead to prepare for future development beyond 2014.
To that end, the city this month is expected to adopt its first six-year capital projects budget. "Only projects that meet city policy requirements are eligible for funding," said Martinez.
He added that $27,000 is budgeted in 2014 for smaller improvements.
Overall, whether big upgrades or small, Martinez says the goal is service to Mabton's residents.
"These projects will help the city start the process of solving problems that must be completed in order to provide reliable and quality services," he said. "I look forward to continued progress on all these projects because they will improve the quality of life in Mabton."