WORKING STIFF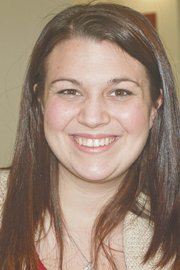 Lauren Hershberger is a newcomer to the Lower Valley area, but she likes what she sees, a lot.
"I've lived in a lot of different places. I think this is one of the most beautiful areas I've lived in so far," she said.
It also helps that she has found a job to her liking as an administrative assistant at Sunnyside's Sun Terrace Assisted Living and Retirement Community.
"I love my job here," Hershberger said.
She began working at the retirement complex in mid- November.
"I started working at Sun Terrace part-time, but now I am working here full time."
Hershberger said she enjoys her work with the residents and staff, calling them amazing.

"Working at the front desk keeps me on my toes," she said. In addition to working for the facility's general manager, Kathy Young, Hershberger also works with office manager Ellen Kastl.
Hershberger also helps the more than 80 residents as needed.

"I pretty much do whatever is required of me. There is never a dull moment," she added.
Hershberger, who has lived throughout the Midwest, said she and her son, Knox, found themselves moving to the Yakima Valley due to family circumstances.
"My parents, Wes and Cassandra Hershberger, were called to be the pastor family at Grandview Church of the Nazarene," she explained. Her sister-in-law, Brittany Hershberger, also works at Sun Terrace.
When not working at Sun Terrace, Hershberger volunteers her time at the Grandview church her family now attends.
"I help out with the children's church and the youth programs," she explained.

"I am really looking forward to becoming more acquainted with the community," she added.
"I seem to be meeting someone new every day," she added.