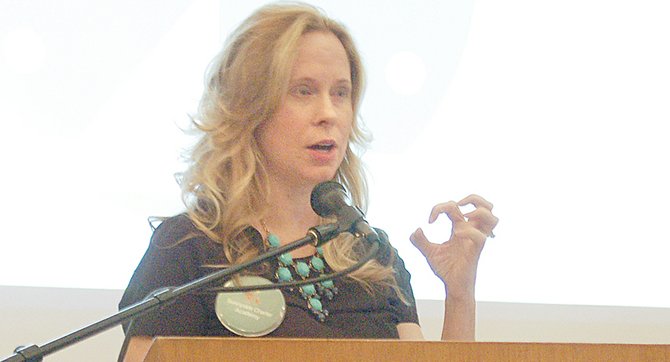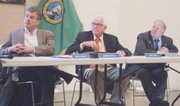 YAKIMA – Despite nasty weather, more than a dozen supporters of the Sunnyside Charter Academy showed up at Perry Tech in Yakima last night to speak on behalf of the charter school application.
Among the speakers were local teachers, a Sunnyside school board director and a number of parents.
The public forum is part of the process created by the Washington State Charter School Commission to approve charter schools in the state. The citizens of Washington state voted in 2012 to allow charter schools.
The commission is now considering 19 applications for charter schools, including one from the Sunnyside Charter Academy. The final decision on the applications will be made on Thursday, Jan. 30, in Seattle.
At last night's public forum the commissioners heard presentations from two groups that want to start charter schools in Yakima County. The forum was the second of nine public forums the commissioners have scheduled across the state.
Sunnyside Charter Academy founders Brittany Weaver and Erin Martin gave an overview of their proposal and introduced several board members during their allotted time. In their 10-minute presentation they explained that their school will use blended learning, a combination of computer learning and teachers, to help students to work at their own pace.
Weaver and Martin said that they have also formed partnerships with other organizations in the community. To help students learn more about agriculture, the charter school has partnered with Heavenly Hill Harvest farm in Sunnyside. The group also mentioned a partnership with Nuestra Casa.
The group already has plans to build a school and during the presentation they said it would serve 504 students at full capacity in grades kindergarten through eight.
The public comments for Sunnyside Charter Academy were uniformly positive. Fourteen people provided feedback to commissioners.
The only speaker who could be said to be neutral was Sunnyside School Board Director Sandra Linde. She stated that the school district is dedicated to helping all students within its boundaries.
"I believe this has been a strength of our district as we have been able to work cooperatively with home school families and the local Christian school," she said. "I will advocate that we do the same with the Sunnyside Charter Academy if their application is approved."
Also speaking was Sunnyside High School agriculture teacher Ryan Kannely, who noted that he's a father first.
"I'm excited for the possibilities," he said of the charter school. "I'm dedicated to kids learning at their full potential."
Dr. Jared Condie, a Sunnyside orthodontist, spoke in favor of the charter school. He said that many local parents are uncertain how to get involved in their children's education. He talked about how his fluency in Spanish allowed him to help a neighbor and noted that the charter school's emphasis on parental involvement will help many local students.
Ethan Weaver, son of one of the founders, talked about his experiences being home-schooled and how working at his own pace had improved his learning.
Hector Gamboa, Sunnyside real estate agent, said the charter school's emphasis on parental involvement will help not only the students, but the parents. And, as a result, it will also help improve the community as a whole.
Timothy Miller of Yakima supported the Sunnyside group. He noted the efforts of the school to form partnerships. He also spoke of having a learning disability that could have changed his life if his parents hadn't fought to help him.
"The classroom wasn't wrong," he said of the standard public school. "It just wasn't right for me. Charter schools prevent people from falling through the cracks."
The responses to the other group giving a presentation last night were not nearly as positive. Yakima Academy made its pitch first during the meeting. Four of the seven members of the public who spoke expressed concerns. Two addressed charter schools in general while two were concerned with aspects of the Yakima Academy proposal.
The Washington State Charter School Commission will also accept written comments on charter school proposals. Written comments, limited to one page of 12-point font, can be sent to the Washington State Charter School Commission, P.O. Box 40996 Olympia, WA 98504-0996.