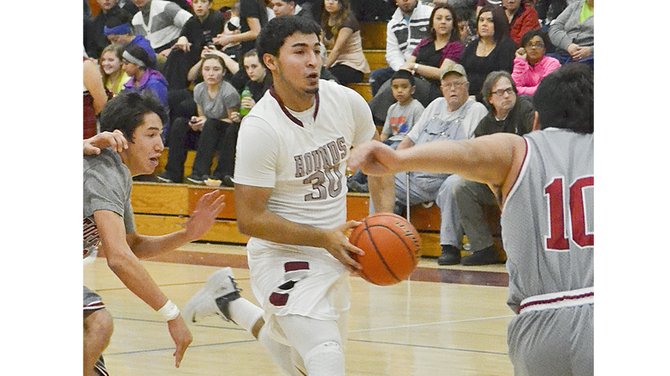 BOYS PREP BASKETBALL
GRANDVIEW – "Toppenish is a scrappy, hard-playing team…they never quit," Grandview boys basketball coach Glenn Braman said of last night's home game against the Wildcats.
But it was the contributions of several Greyhounds that led to a 73-52 victory over Toppenish.
Grandview took an early 18-8 lead and kept the momentum going throughout the game.
The Greyhounds had a 10-point lead at halftime and had a third quarter surge that was sparked by a couple of 3-point shots from Jay Amendariz. The 'Hounds outscored the Wildcats 21-10 in that quarter.
The two teams each scored 19 points in the final stanza, leaving Grandview with the 73-52 win.
The leading scorer for Grandview was Isaiah Gonzales, who tallied 19 points. Teammate Andy Rodriguez scored 14 points, and Joey Saenz contributed another 12 points to the tally.
Braman said he began inserting his reserves into the game early on.
"Bryce Carpenter had a good game, playing around the basket," he said.
The Greyhounds mixed the player combinations, giving different players an opportunity to compete with one another.
That resulted in throwing the Wildcats off their game.
Kobe Schrank came off the bench and was able to "…cause havoc for Toppenish." Braman said the junior made it difficult for the Wildcats to block him. "He was scraping the rebounds and showed a lot of hustle."
Isaiah Ruiz didn't have a good scoring night, but he was able to do a lot of damage on defense and setting up offensive plays.
"He nearly met the school's assist record of 18," said Braman.
Ruiz had 15 assists, tallied eight boards and had six steals on the night.
"He gets the ball in place, ready for our guys," Braman said of Ruiz's team mentality.
The scoring leader for the Wildcats was Randy Isadore with 13 points. Teammate Isaac Lopez added another 11 points to the final score.
Grandview (7-0, 9-0) will tomorrow (Saturday) travel to Prosser.
"We are going to need to be more consistent…with a rivalry like the one between Grandview and Prosser the records go out the door," said Braman, stating the Greyhounds need to be prepared for a physical game tomorrow.