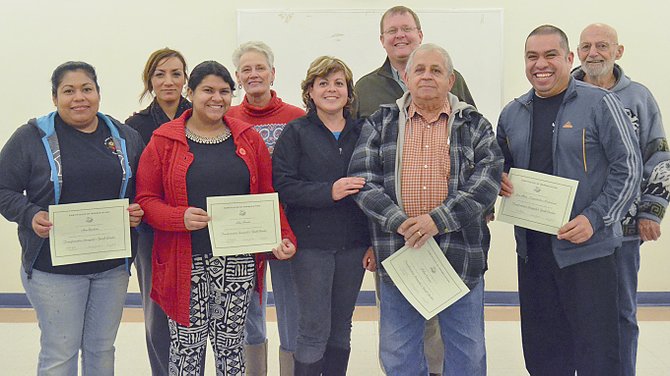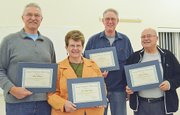 After much consideration and several years of watching local volunteers work on the Loving Sunnyside Initiative, in the community garden and youth ranch, at the farmers market and various other outreach programs, Sunnyside Transformation Yakima Valley held a special recognition and awards gathering last night (Thursday).
Director Roberto Matus said the volunteers and board members have poured their hearts and time into the community, prospering Sunnyside and bringing community members together through servant-leadership.
The volunteers and organizations that were recognized with a certificate of appreciation include: Rick Villalba, Ruben Carrera, Paul Hernandez, Nathan Arevalo, Jade Arevalo, Martin Hernandez, Mart & Lilly Moore, Lilia Huerta, Ken Hill, Juventina Garcia, Jose Ochoa, John Hanson, Joel Almaguer, Jesus Ruiz, Jamie Willard, Alberto Bravo, Leticia Bravo, Uriel Bravo, Alma Pantoja, Esmeralda Pantoja, Ana Bautista, Bengie Aguilar, Carolyn and Jim Terrel, Cathy Kelley, Cody Wadley, Jose Mora, Diego Flores, Obed Cruz, Dwayne Blankenship, Eduardo Gallo, Eric Placzek, Greg Rasmussen, Henry Haak, Hortencia Hernandez, Jacob Ziegler, Veronica Gutierrez, Sunnyside Christian High School, Sunnyside Christian School, Rosie Haak, Michelle Haak, Marie Duim and Mary Werkhoven.
Also recognized were the board members that have been with Sunnyside Transformation Yakima Valley since its inception. They include Ed Werkhoven, Rose Marie Wrung, Leroy Werkhoven, Tony Cardenas and the late Jerry Haak.
Each of the board members was recognized for their vision for the community, according to Matus.
He said there are many memories of Jerry Haak, who "…made a great impact in our lives."
The awards were decided upon before Haak died.
"He would be mad at me for recognizing him…he liked to stay out of the limelight, but he had a great impact on us all," Matus said.