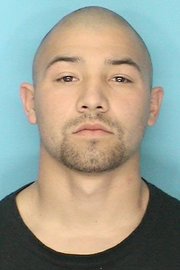 Yakima County Sheriff's Office detectives have linked a gang-related shooting in Outlook in July 2013 to the suspect in the murder of Carmen Johnson this past December.
Johnson was shot at a party just south of Grandview in the early morning hours of Sunday, Dec. 15, 2013. The suspect in the shooting is Miguel Angel Martinez, 21, of Grandview. Investigators continue to search for Martinez.
The previous shooting happened on July 28, 2013 at about 3 a.m. Four teenage boys were walking to their vehicle after attending a party on South Outlook Road and were confronted by an unknown Hispanic male who exchanged gang slurs with them before producing a pistol and firing several rounds.
The victims, ages 14, 16, 17 and 19, were transported to local hospitals with non-life threatening injuries. All the victims were said to reside in Mattawa.
According to deputies, details of how Martinez was identified as the Outlook shooter will not be released at this time, but "investigators are certain of his identity." Four counts of assault have been added to the murder charge against Martinez.