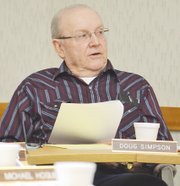 Plans to construct a pump station near King Tull Road are on track thanks to a cooperative effort with Benton County officials.
That was the report to the Sunnyside Division Board of Control last Friday.
Ron Cowin is SVID's assistant manager responsible for engineering, and he said a variance and right-of-way vacation had to be obtained from Benton County. He says the combined costs for those will be $750.
A pump station in that section of the irrigation system is needed because the topography is so flat that it can be difficult to get water flowing through the system. The station, then, will also be elevated to help improve water flow for irrigators.
Cowin in a report presented later on Friday to the SVID Board of Directors said the district has the go-ahead from Sunnyside city planners to proceed with construction of a conference room at the SVID field office on Yakima Valley Highway, formerly the site of Bieber Brothers Carpet.