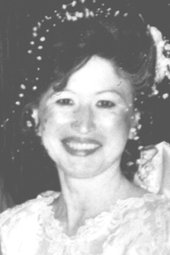 Yolanda P. Palomarez, 67, of Sunnyside, our beloved wife, mother, mother-in-law, grandmother, great-grandmother, sister, sister-in-law, aunt and friend, went to be in the arms of her Heavenly Father on Friday, Jan. 10, 2014, surrounded by her loving family.
Yolanda was born April 26, 1946 in Edinburg, Texas to Alfredo and Manuela (Castilleja) Perez. She received her early education in Grandview.
On June 27, 1961 she married the love of her life, Tony D. Palomarez in Sunnyside.
Yolanda was a loving and dedicated wife and mother. Her family meant everything to her whether it was cooking for family gatherings or going to watch her kids and grandchildren on the court or ball fields. She was there with love and pride in her heart, and a smile on her face. She also cherished the time she spent working with Tony around their home and in their garden.
She was a longtime member of St. Joseph Catholic Church in Sunnyside.
Yolanda is survived by her three daughters, Lola (Jeff) Serl and Toni "Chorte" Palomarez, both of Sunnyside, and Marina (Matt) Wilcox of Yakima; two sons, David "Chief" (Gretchen) Palomarez and Harvey (Tracie) Palomarez, both of Sunnyside; 12 grandchildren, Jessica, Anthony, D.J., Christina, Samantha, Nicholas, Tayler, Trey, Jacob, Tori, Allison and Nathaniel; four great-grandchildren, Andrew, J.J., Ellyana and Elijah; brothers, Ruben (Mary Alice) Perez, Ernesto Perez, Jose Luis Perez, Alfredo Perez Jr. and Daniel Perez; and one sister, Victoria (Justo) Salas; and numerous nieces and nephews.
She was preceded in death by her husband, Tony D. Palomarez; two sons, David Palomarez III and Tony Palomarez Jr.; her parents, Alfredo and Manuela Perez; her siblings, Adelina Tavarez and John Perez, both of California.
Recitation of the Holy Rosary will be held Thursday, Jan. 16, 2014, at 6 p.m. at Smith Funeral Home Chapel in Sunnyside. Mass of Christian Burial will be held Friday, Jan. 17, 2014, at 11 a.m. at St. Joseph Catholic Church in Sunnyside.
Those wishing to sign Yolanda's on-line memorial book may do so at www.funeralhomesmith.com.
Smith Funeral Homes Ltd. and Crematory in Sunnyside is in charge of arrangements.
More like this story