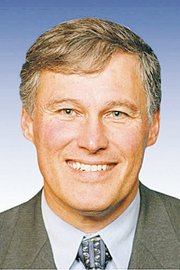 OLYMPIA – Increased spending on transportation and education, as well as a hike in the minimum wage are priorities detailed by Gov. Jay Inslee during his State of the State 2014 address yesterday.
In his presentation on Tuesday, Inslee challenged lawmakers to boost education investments by at least $200 million.
He noted that last week's state Supreme Court order, which says the state continues to fail its constitutional obligation to adequately fund education, is a call for action this year.
"Promises don't educate our children. Promises don't build our economy and promises don't satisfy our constitutional and moral obligations," Inslee told a joint session of the legislature.
He is proposing to close some tax breaks in what he calls a "sustainable way" to increase K-12 funding and give teachers cost of living allowances.
Inslee again this year is also pushing for a transportation package that, if approved by lawmakers, would raise gas taxes.
In his speech yesterday, Inslee claims inaction on a transportation package would "…weaken Washington's economic backbone and result in unacceptable reductions in maintenance funding."
He added, "I've been pushing the legislature to do something about this since my first day in office. The goal cannot be for everyone to get everything they want. Instead, we must get agreement on what our state needs."
The third major priority he focused on in yesterday's address was increasing Washington state's minimum wage. The wage just this year increased to $9.32 per hour, well above the national minimum wage of $7.25.
Inslee didn't specify what the new minimum wage should be in this state, but pledged that he would work with legislators, businesses and stakeholders to determine what the new minimum wage in Washington should be.
"There are thousands of working moms and dads with full-time jobs - sometimes two or three jobs - who some days cannot afford to put adequate food on the table," said Inslee. "That's why today I'm calling for a statewide increase in the minimum wage. In every community there are people who don't share in our state's prosperity and we need to do something about that."
In other priorities outlined yesterday, Inslee also announced he will propose B&O tax relief for tens of thousands of small businesses. He is also planning to propose health care initiatives aimed at improving the health of children, the quality and cost of health care services and better integration of mental health services.
Inslee also emphasized that he will continue efforts to meet the state's carbon emission targets and act on climate change.
He also called on lawmakers to work and collaborate with one other.
"Rebuilding our economy after the greatest economic downturn since the Great Depression isn't easy. But we are doing it," Inslee told legislators. "I know Washingtonians, and I know what we are capable of doing when we work together."