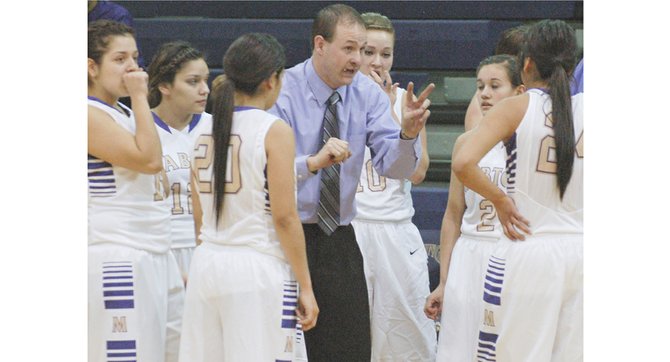 MABTON – In last night's game against visiting Highland the Lady Viking basketball squad clearly took control of the game from the onset.
Mabton opened the game on a 20-2 run and the momentum would carry through the fourth quarter for a 65-36 win.
The Lady Vikings had a 42-16 lead at halftime of Tuesday night's SCAC contest.
"The (Mabton) girls came out with great energy and a great defensive effort," said Lady Viking Coach Chris McCallum.
The Lady Vikes forced 33 turnovers and beat the Scotties on the rebound 33 times. Highland came away with 25 boards.
"I was really pleased with the way we shared the ball and how balanced the scoring was," said McCallum.
Mabton outscored the Scotties 13-10 in the third stanza and the teams scored 10 points apiece in the closing quarter.
Desanay Guerrero of the Lady Vikes led her team with a double-double, scoring 13 points and grabbing the ball from the glass 10 times. She also collected nine steals.
Teammate Alyssa Nash contributed another 11 points to the score and collected the ball from the boards seven times.
Soila Zaragoza helped her Mabton teammates with 10 assists.
The Lady Vikings didn't fare as well at the charity stripe. They combined to make 7-of-20 free throw attempts.
The Scotties had 18 opportunities to score from the free throw line and made good on 10 baskets.
It was Danielle Packard that led Highland, scoring 10 points. Teammate Bryanna Monson collected 13 rebounds, 10 of which were on defense.
"The (Mabton) girls really played team basketball," said McCallum, noting the Lady Vikes do need to work on taking advantage of free throw opportunities and committing fewer fouls.
"I know the style we play…we're going to foul a little more, but we really have to get better at staying out of foul trouble."
Mabton (8-3) this Friday travels to Cle Elum and hosts Goldendale on Saturday.