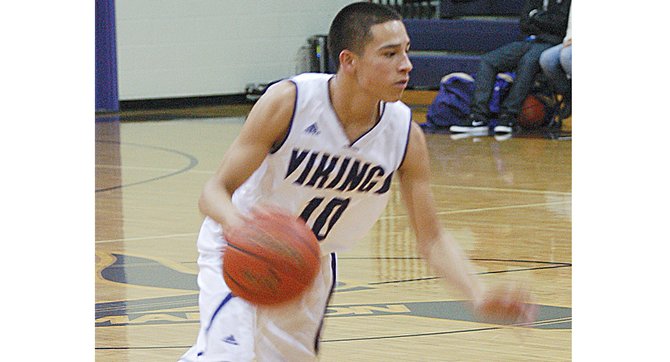 MABTON – In a see-saw SCAC tilt, the Mabton Viking boys basketball team came up just short in a 64-61 overtime loss to visiting Highland last night.
The Scotties clung to a 13-12 lead after one quarter Tuesday night and went up by as much as 28-21 in the second before a Mabton rally pulled the Vikes to within 28-25 at the half.
Mabton sustained its momentum into the third frame, actually grabbing the lead before Highland tallied six straight points to close out the quarter with a 41-37 advantage.
Back came the Vikes in the final stanza, rallying for a six-point lead, only for Highland's Parker Stohr to knot the score with a pair of 3-point shots.
Mabton had one final chance to break the 56-56 deadlock in regulation, but a potential game-winning bucket bounced out.
The Scotties then built on their late run when in overtime they tallied the first six points thanks to a putback and four free throws.
Mabton pulled to within 62-61 with 45 seconds to play in the extra session, when Stohr drilled a two-point bucket as the shot clock expired.
Down by three points, the Vikes had three chances in the final seconds to tie the score and force a second overtime. All three misfired, though, to send Mabton to a 64-61 loss.
"This was a great game to be part of," said Mabton Coach Brock Ledgerwood. "We had our opportunities to take this much-needed win, but could not get the ball to bounce our way in the end."
Luis Ruiz paced the Vikings with 20 points, while teammate Roy Zavala tallied 11 points in the losing cause. Alex Espinoza and Isaiah Sanchez scored 9 and 8 points, respectively, for Mabton.
Stohr led Highland with a game-high 21 points.
The loss dropped Mabton to 2-9 on the season with league contests against Cle Elum and Goldendale this coming Friday and Saturday, respectively.
"We still have a lot of room to get better, but this weekend's games are must wins for us to stay in the hunt for the post season," said Ledgerwood.