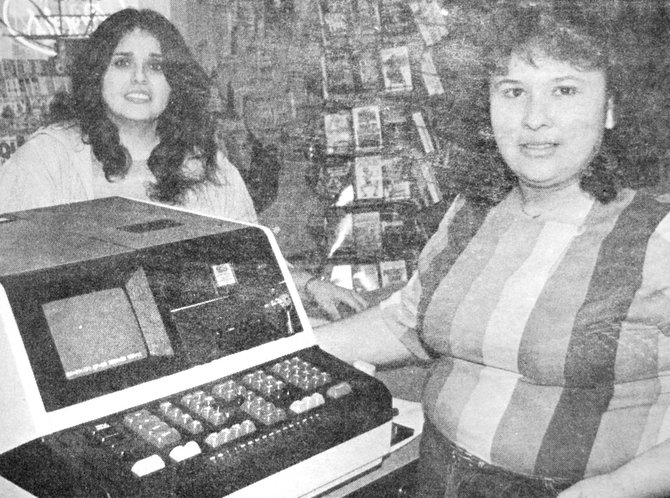 Over the Shoulder
A look back in time from the files of the Sunnyside Daily Sun News and Sunnyside Sun
110 YEARS AGO...(1904)
Burglars used dynamite to blow open a safe at Sunnyside's Coffin Bros. store. The suspects got away with a $76.14 booty, as well as an heirloom gold watch and some canned goods.
Mrs. S.J. Harrison was elected president of Sunnyside's Federated Aid Society. Other officers elected included Mrs. S.T. Woodin, first vice president; Mrs. M.A. Roraback, second vice president; Mrs. J.W. Argent, secretary; and Mrs. Ira D. Boutell, treasurer.
100 YEARS AGO...(1914)
Fugutive C.M. Scott, who was wanted in Sunnyside on charges of mortgage fraud, was apprehended in Fergus County, Mont. He eluded authorities for nearly two years before being captured.
Mrs. Wallis Williams was the featured speaker at the Sunnyside Woman's Christian Temperance Union meeting.
90 YEARS AGO...(1924)
Verne Fleming of Sunnyside was appointed by Yakima County Auditor Edmund Riley to the position of deputy auditor.
Sunnyside's W.L. Barker and Frank Fyfe, Outlook's Fred Langford and S.E. Chaffee of the Benton Extension of the Sunnyside Canal, as well as Lloyd Miller represented the Yakima Valley at a water users conference in Salt Lake City, Utah.
80 YEARS AGO...(1934)
Reynard Bos needed three stitches and J.P. Smith eight after both suffered scalp wounds from the same hay baler while working on a ranch in the Green Valley area.
Named to the honor roll at the University of Washington were Edwin Hillyer, Kenneth Hawkins, George Sainsbury, Lloyd Weiser and George Johnson of the Yakima Valley.
70 YEARS AGO...(1944)
Hobert Bond, owner of the Sugar Bowl in Sunnyside, replaced his 26-year-old brick oven with a Middleby-Marshall oil burning rotary oven.
John E. Johnson of Sunnyside was accepted for training as a fighter pilot.
60 YEARS AGO...(1954)
Mrs. R.G. Thomas, an exchange teacher from India, teaching in the Sunnyside School District, was the featured speaker at the Bickleton Presbyterian Church.
Mrs. Wiley Barrett Sr. of the Sunnyside area suffered many cuts to her face as discs from a milk separator flew through the air when the machine flew apart in her basement.
50 YEARS AGO...(1964)
The newly constructed Sunnyside Library, located on the property of the old Carnegie Library on Grant Street, opened its doors to the public for the first time.
Sunnyside Police Chief O.E. Hill's retirement was put on hold for a year.
40 YEARS AGO...(1974)
Pacific Power & Light Co. opened its newly constructed Sunnyside office at the corner of South Fifth Street and West Edison Avenue.
Sunnyside Republican State Representative Irving Newhouse was elected to the top leadership post of the minority party in Olympia.
30 YEARS AGO...(1984)
The Sunnyside Police Department recovered a phone booth that had been stolen from Sunnyside Christian School. Three juvenile males, ages 14 to 16, were allegedly responsible for toting the phone booth off, using a sled.
20 YEARS AGO...(1994)
Sunnyside Economic Development Director Dave Fonfara told Sunnyside residents the city would experience economic benefits if Grandview was selected for the site of a new state prison.
Logan Sharma, 3, of Grandview was selected as a regional finalist in "Kid Search," the nation's largest model contest.
10 YEARS AGO...(2004)
Gov. Gary Locke visited Mabton to show his support to dairy farmers and to allay Mad Cow Disease concerns.
Sunnyside firefighter/paramedic Bill Harris was named Sunnyside Fire Department Career Firefighter of the Year, and Volunteer Firefighter of the Year honors were presented to Tony Castillo.