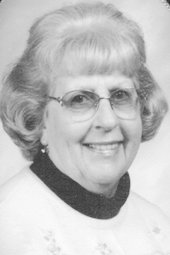 Maxine Hickenbottom, 85, a longtime Sunnyside resident, passed away on Wednesday, Jan. 15, 2014, in Sunnyside.
Maxine was born Sept. 11, 1928 in Seattle, the daughter of Walter and Daisy (Middleton) Hansen. She received her education in Edmonds, and graduated with the class of 1948. Following graduation Maxine worked for the telephone company in Edmonds.
She met the love of her life, Robert Hickenbottom, while at a dance. They were later married on Oct. 10, 1948 in Edmonds. They then moved to Sunnyside. Bob was in the fruit and produce business.
Maxine was a member of the United Methodist Church, P.E.O. and Circle.
She and Bob traveled for business and pleasure and they journeyed to every continent in the world except for Antarctica.
She enjoyed watching classic movies, reading mystery novels and doing craft projects. Every Saturday morning, she and Bob would meet beloved friends for breakfast, conversation and laughter. Maxine and Bob spent many weekends traveling to Seattle to watch the Seahawks and Mariners play.
Family was the most important thing in Maxine's life, very loving and always interested in their welfare. She was loved and cherished by her family and many friends. She was always cheerful, friendly, sweet and generous. She will be very much missed by all who knew and loved her.
She is survived by three sons, Jerry (Lois) Hickenbottom and Mark Hickenbottom, all of Sunnyside and David (Carla) Hickenbottom of Mt. Vernon; three grandchildren, Shane (Jennifer) Hickenbottom, Aaron (Angie) Hickenbottom and Chad Hickenbottom; and two great-granddaughters, Querina and Zabella Hickenbottom.
She was preceded in death by her parents; and her husband, Robert "Bob" Hickenbottom.
A memorial service will be held Saturday, Jan. 18, 2014, at 1 p.m. at United Methodist Church in Sunnyside.
Those wishing to honor her memory may contribute to United Methodist Church.
You may sign Maxine's on-line memorial book at www.funeralhomessmith.com.
Smith Funeral Homes Ltd. and Crematory in Sunnyside is in charge of arrangements.
More like this story