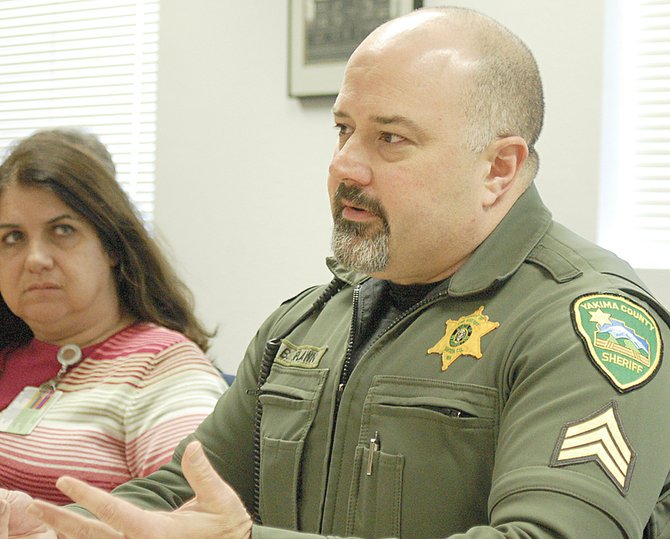 "People are too tolerant of parties," Sgt. Bill Splawn of the Yakima County Sheriff's office said at yesterday's Sunnyside United meeting. "We can't do anything if nobody calls us."
He went on to say that in the recent incident near Grandview in which a young man was killed during a house party that got out of control, the deputy arrived only a few minutes too late to stop the shooting.
"We didn't get called until 2 a.m.," he said. "We can do more if we are brought in earlier."
Splawn was at the meeting to present information on drug and alcohol use in the county from the Yakima County Sheriff Office's point of view.
"We need to educate people to intervene somehow," he said. "People should be calling in if there is a lot of noise."
Splawn said people are allowed to stay anonymous even if police ask for their name.
Sunnyside United coalition member Phil Schenck spoke up to mention efforts to stop parties through Crime Stoppers.
He explained that if a person calls in a report of a party with underage drinking, the person will get a code from Crime Stoppers. After the party has been stopped, the person can call again and, if the tip stopped the party, they can take that code to a bank and get a monetary award, no questions asked and without ever revealing their own identity.
Splawn also said that the county takes noise complaints very seriously. He noted that after a $1,000 fine, deputies don't usually get called back to the same house.
Splawn also cited the problem of social media. When deputies break up a party, they ask attendees how they learned about it. Many hear about parties on Facebook, Twitter or other internet social media services and then travel a long way to a party.
"They come from Kennewick and Pasco or from White Swan and Moxee to a party in Sunnyside," he said. "It's not like when we were kids and we partied with our classmates."
The biggest issue for deputies is finding the parties before they get out of hand.
"People need to call us if there is a lot of noise and a lot of children," he said. "We can stop these (events) from getting out of hand."