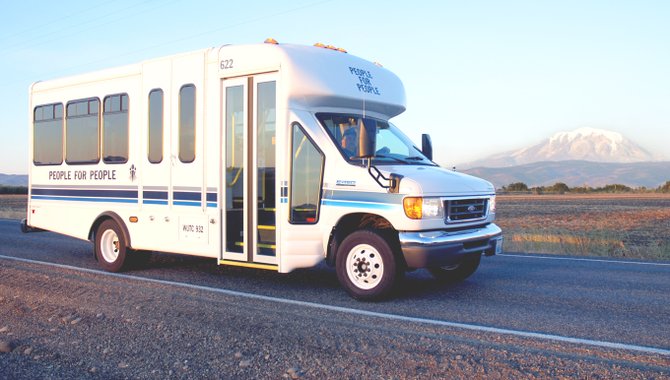 The most visible sign of People For People are the buses that provide essential transportation services to people around the Lower Yakima Valley, but those efforts are only the tip of the iceberg for the service organization that has been helping people for nearly 50 years.
The current president of the board of People For People, Sunnyside Mayor Jim Restucci, said the non-profit corporation has provided services to Yakima County citizens since 1965, with a mission to strengthen the communities it serves by providing resources and opportunities that empower people to lead self-sufficient and enriched lives.
In addition to transportation, People For People also provides employment and training services, senior nutrition programs and 2-1-1 information services in 20 counties in Eastern Washington.
Restucci said the board provides oversight of programs and finances, assuring that services are provided effectively and efficiently. People For People has a history of perfect audits, not bad for an organization that has a $13.4 million annual budget.
The non-profit has provided transportation services to individuals with special needs since 1982, including door-to-door transit.
"Annually, People For People provides more than 336,000 trips while traveling almost 1.8 million miles in Yakima, Adams, Grant and Lincoln counties," said Retucci.
In addition to transportation services for the special needs population in Sunnyside, People For People also provides a free community bus that travels from Yakima to Prosser up to four times a day on weekdays.
The Community Connector bus stops at the Sunnyside Worksource office and the Grandview Safeway store during its route in both directions. The schedule for the bus is available on the website at pfp.org.
The organization also provides non-emergency medical transportation for Medicaid-eligible people.
"This service provides valuable access to more than 13,000 individuals each year," said Restucci. "It's for doctor appointments, check-ups and pharmacy visits. It's not an ambulance service."
In Sunnyside, People For People works with WorkSource personnel to provide employment and training services to about 110 people every year. Restucci said the goals of the program are to help disadvantaged adults to gain and retain employment.
People For People also runs a senior nutrition program, currently running at capacity in Sunnyside. The organization assumed operation of the program in 2009.
"Annually, the service provides over 98,000 nutritious meals to vulnerable seniors in Yakima County," said Restucci. "In Sunnyside we provide over 8,100 congregate meals and 1,800 home delivered meals. In Grandview, we provide 6,800 congregate meals and about 1,200 home delivered meals."
Another service provided by People For People is the 2-1-1 call line. When a person needs information about health and human services, instead of hunting for a local number they can simply dial 2-1-1. In the Greater Columbia area, the call center is operated by People For People and provides answers to a variety of questions.
"Greater Columbia 2-1-1 is part of a comprehensive and integrated system of statewide 2-1-1 call centers with trained, certified and bilingual staff that are available to assist callers with a variety of health and human service requests," said Restucci. "The line handles more than 30,000 calls each year and also provides the infrastructure for the statewide system - Washington Information Network 2-1-1."
Restucci said that working with the organization has been a pleasure. He served on the board for three years before being elected president.
"It's a lot of fun," he said. "It's one of those boards that everyone wanted to be on. Everyone is a volunteer."
He also praised the workers for the non-profit, saying that he's never met people who love their work as much.
"I am so glad I am a part of this organization," he said. "These people really love their jobs."