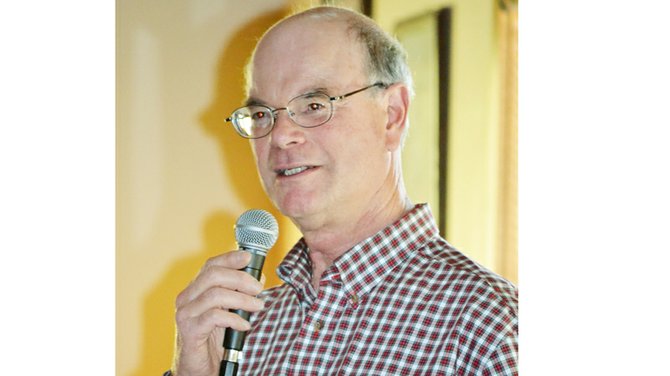 Isabelline Shrike, Demoiselle Crane, Ruddy Shelduck - the names sound like fictional characters from a soap opera or prime time drama.
However, Isabelline, Demoiselle and Ruddy are very real. They're not human, though. They're just a few of the uncommon bird species found in Mongolia's Gobi Desert.
The Sunnyside-based Nouvella women's club heard about these and plenty of other feathered friends during a luncheon presentation last week by Yakima Valley bird enthusiast Andy Stepniewski.
He has published a book about the birds of Yakima County.
Stepniewski has also travelled with his wife to Mongolia on a three-week expedition that featured extensive bird watching in the steppe and mountain areas of the Gobi Desert. He recounted how change is gradually coming to this remote area, such as primitive gerts (tent-like structures) equipped with satellite dishes, or farmers riding motorcycles to herd their animals.
But it's still a rough terrain lacking many travel conveniences, such as reliable roads and vehicles. Stepniewski recounted how the tour group would wait hours sometimes for their Soviet-era rig's radiator to cool. At other times, their driver would essentially create his own roads along the way.
Stepniewski said his group took the hurdles in stride. The focus of the expedition, after all, was to photograph the unusual terrain and wildlife that call the Gobi home.
To that end, he excitedly discussed with the Nouvella Club the sighting of a Bar-Headed Goose, famed for its migration at elevations so high they soar over Mt. Everest.
Stepniewski noted that most of the birds found in Mongolia are uncommon to North America, giving their sightings even more meaning to avid bird watchers.
He also praised the hospitality and friendliness of the Mongolian people that overcame language barriers.
Whether it was cooking for the party or offering the traditional travel blessing of milk poured on their vehicle's tires, Stepniewski said he enjoyed the people of Mongolia.
He noted their group camped in the gerts and even found gert "motels," where several of the round tent-like buildings were placed together to accommodate travelers passing through.
"It was a grand experience," he smiled.