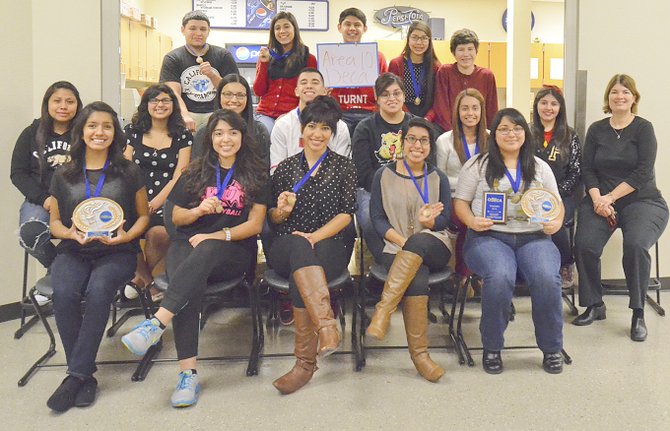 YAKIMA - Sixteen members of Sunnyside High School's DECA Club brought home a total of 24 medals from the Washington State Area 10 competition held in Yakima.
One of those students, Karla Villanueva, earned a state competition berth.
DECA Advisor Erin Ferguson said all of her students competed in the individual series of the competition.
There are three series in the competition, including the individual projects. Also included in DECA competition are marketing projects for teams, as well as written projects.
Ferguson said the students from SHS didn't compete in either of the latter series because team members must remain consistent throughout all levels of competition. Written projects, she said, have not been pursued due to the amount of time devoted to a 30-page essay.
"I try to have the students complete the projects in class," said Ferguson, noting approximately half of the DECA members are involved in the marketing class that operates the DECA store at the high school.
That means time is limited.
To compete in the Area 10 competition, students beforehand complete a written test that is good for half their score.
At the area competition, said Ferguson, students compete in an oral competition involving role playing presentations. The students are provided a scenario in which they are tested based on their responses. The scenario involves a marketing problem for which a solution or choice must be presented.
Ferguson said retail marketing or expansion of a business could be part of the scenario.
"They are all business scenarios…whether it's increasing sales, expanding, figuring out how to meet the needs of the customer base or introducing a new product line," said Ferguson.
She said one student was provided a scenario in which a restaurant was having an issue. The orders, she said, were continuously being mixed up. The student had to come up with a way to rectify the problem.
Students are provided 10 minutes to prepare presentations with a plan and/or solution for the scenarios they are provided. Two judges score the presentation, which is worth 100 points.
"I am just really pleased with how well we did," said Ferguson, stating she is looking forward to accompanying Villanueva to the state competition in March. That competition will be in Bellevue.