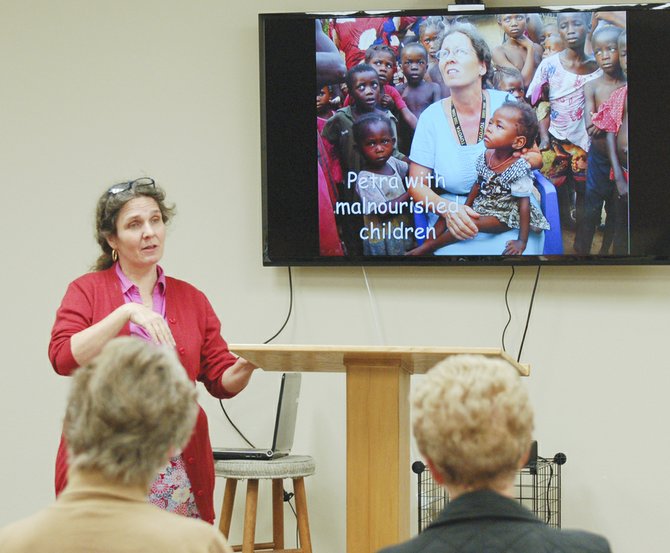 Petra Wirrell's years in Sierra Leone were devoted to teaching children how to read, training teachers and helping out in the local hospital, but she also faced interesting challenges as she learned to respect local beliefs while still challenging traditional thinking.
Wirrell and her husband, Charles, spent a couple of years in Sierra Leone on a mission supported in part by the Sunnyside Christian Reformed Church. They have since moved on and will soon be traveling to Gambia.
Wirrell said that one of the problems of working with people in the West African country was handling local beliefs. Although the country is mostly Muslim, most people also hold animistic beliefs as well, including a certainty that witches exist and affect their daily lives.
Wirrell, speaking at the Sunnyside Christian Reformed Church during Wednesday morning's coffee break meeting, talked about a young man who died after being cursed by a person the natives believed to be a witch. Wirrell spoke about how the belief in the curse no doubt contributed to his demise.
"I think he may have died of fright," she said.
She was also told of witch copters, tiny flying machines that witches ride around in to cause havoc. She asked if people had seen them. No, no one had seen a witch copter. Then how did they know they exist? She was told it is obvious. If a building fell down, it was a witch copter.
"Of course, it has nothing to do with building codes," she said. "It had to be a witch copter."
Wirrell's journey to Sierra Leone started when she was a young woman in Germany studying pharmacy. She realized that she really didn't want to spend her life in a back room making pills, so she switched to nursing.
An opportunity arose to travel to Canada and get some nursing experience in Vancouver B.C. She jumped at the chance, and during her time there met and married her husband.
She said both of them felt a call to mission service, but felt they couldn't travel with their young family. Instead, they spent 10 years welcoming foreign students with no place to go into their homes during holidays.
But the urge to go further continued for both of them, and in 2004 they went on a mission to Guatemala with their four children. They spent five years there. Wirrell's husband used his mechanical skills in building and teaching at an auto shop. She helped out in a hospital.
"I would help people from villages who had never been in a hospital to adjust," she said.
In 2009 they returned to Canada, and then, with their children grown, decided to travel to Sierra Leone.
They went to the village of Mokanji, about six hours drive from the capital, where Wirrell's husband helped work on wells to keep clean water flowing. Wirrell said it was important to give the people a sense that they were in control and ownership so they would learn how to maintain the wells instead of waiting for missionaries to return and do the work for them.
"We want to give them a hand up, not a handout," she said.
Wirrell said she had to work to ease people away from mistaken beliefs. In one instance, she noticed that, although there was plenty of food, some of the young children were malnourished.
She asked the mothers what they were feeding the children. They said they had been taught at the hospital to feed the children rice.
The problem was that the hospital was supposed to give ongoing lessons, and the rice was only a part of a series of foods that would be introduced to the children, with more foods introduced in the next lesson.
"But the nurse may not show up the next month," said Wirrell. "Or the mother has to work in the field and doesn't have time to go. And what does it matter? She knows to feed her child rice."
So Wirrell suggested trying other foods. She got unexpected resistance when she suggested bananas, however.
"They said children cannot eat bananas or they will grow up to eat poop," said Wirrell. "I asked why, and they said it was obvious. The banana is shaped like poop, and the monkeys that eat bananas also eat poop. The children would get confused."
Fighting against "obvious" beliefs like those was a big part of what Wirrell did. But she said she couldn't just go in and say, "You are wrong, here's the right way." She had to teach them in a way that respected them.
One success was with training a teacher. The teacher had flash cards and didn't know how to use them. So Wirrell started to show her. But when the students answered incorrectly, the teacher would hit them with a switch.
Wirrell asked why, and the teacher said the students couldn't learn unless they were punished. Wirrell asked what happened when students didn't do their homework. They got beaten, the teacher told her.
"Does it work? I asked," said Wirrell. "The teacher said no. So I suggested trying something else."
She offered some matchbox cars that a group in Seattle sent. Although there were not enough cars for all the students, Wirrell suggested that students who do their homework get a car for a reward. She later came back and learned that students who did their homework for a whole week were allowed to take the cars home and play with them for the weekend, returning them on Monday.
"She went a little farther than I suggested," said Wirrell. "And she was able to make the toys available for all the group."
Wirrell also made an effort to teach people how to read. She provided picture books for children and copies of the Bible for adults. Although most of the population is Muslim, she said that many were only Muslim out of tradition.
She told the story of how she started reading the book of Mark to a man. He loved the story and asked if there was a movie. She said there was, and she could show it. He wanted to show it on a projector in the village. So he got permission from the local Imam and about 100 people showed up and enjoyed it, including the Imam.
Wirrell and her husband will travel to Gambia in the spring to start their life of missionary service again.