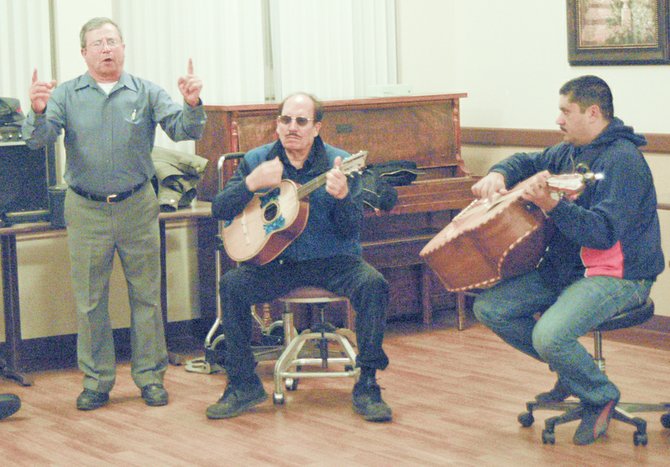 For 34 years, Fernando Farias and Victor Campos have played music every Monday night at nursing homes in the Lower Valley.
This past Monday night the pair was at Prestige Care & Rehabilitation in Sunnyside along with several other volunteer musicians, playing for a small but appreciative crowd.
Farias said that Campos has been at it even longer than he has, starting in about 1979 along with Trinidad Marquez of Mabton. Farias joined the pair after learning that Marquez wanted a different instrument to accompany their violins.
"My wife was chatting with him at work and learned he wanted someone who played bajo sexto," said Farias. "She said 'my husband plays that' and he said 'I want to meet that man!'"
As it turned out, the two had known each other previously when they both lived in Texas in 1943. Once reacquainted, Farias joined the group with his 12-string instrument. The bajo sexto is a uniquely Mexican musical instrument that resembles a guitar.
For years the trio performed at nursing homes in the Lower Valley, often joined by as many as 15 other volunteer musicians. Some came consistently, others intermittently, but they continued to provide memories for people living in the homes.
"One woman asked us to play 'Double Eagle' for her," said Farias. "We had never heard of the song. She had first heard it when her family was camped next to the river and while it played they saw two eagles in the sky, so she knew it by that name."
Farias said Marquez figured out what the song was and the group performed it for the woman.
"She was so happy," he said. "She was young again."
Marquez passed away in 2003 at the age of 97. Farias and Campos decided to continue the tradition of playing at nursing homes.
"I became the leader because I speak English," said Farias.
Every Monday night they are either in Sunnyside or in Grandview at Prestige Care & Rehabilitation, playing Spanish Christian music alone or with other musicians. Farias said he and Campos have gone every Monday, no matter what.
"We are always there," he said. "The others come and go."
He said he enjoys watching the elders who sit in and remember while listening to the music.
"They may not clap or respond, but you can see they are remembering," he said. "We do this for the people."
Farias recalled a time a woman was playing the piano just before they arrived, but abruptly stopped as they entered. Later in his performance he asked if anyone could play. The woman didn't speak up, but another resident pointed to her.
"I asked her to play, but she said she didn't know the songs," he said. "The usual excuses. We said we'd follow her. She got up and despite hands twisted with arthritis, she played."
Farias wiped away tears at the memory.
"You'd be surprised how many of them are professional musicians," he said. "They love to hear us play."