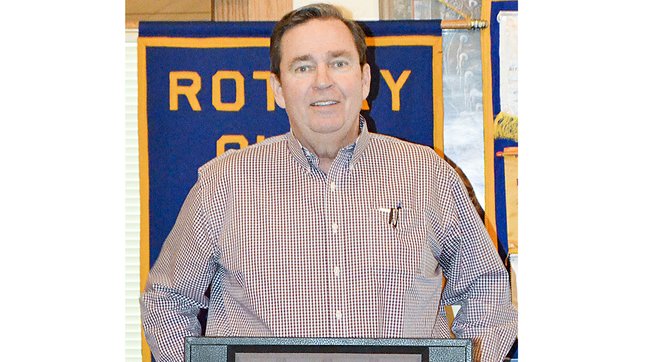 At the forefront of the mind of Yakima County Commissioner Rand Elliott are several efforts that concern Yakima County residents.
Elliott knows that marijuana laws have been newsworthy since the passage of I-502.
At Monday's Noon Rotary meeting he told Sunnyside Rotarians that the commissioners have grappled with the legalization of marijuana.
He said the commissioners last week decided to honor the wishes of Yakima County voters, banning marijuana retailers, processors and producers from establishing businesses in unincorporated areas of the county.
Elliott acknowledged that the decision "…flies in the face of the state vote."
He said the commissioners feel comfortable "…saying no thanks.
"I don't think widespread legalization (of marijuana) has a public benefit," said Elliott.
He said he personally voted to ban marijuana businesses in the unincorporated areas of Yakima County because he believes today's marijuana is more potent and much stronger than it was when he was a college student.
"I think it is beneficial that political decisions are made at the lowest level possible," Elliott said, stating whenever a local government can enact ordinances that benefit the citizens it is better.
"I represent the voters of Yakima County and I wanted to honor their wishes," he said, explaining his reasons for voting in favor of the ban at the local level.
Elliott, the chairman of the Yakima County Groundwater Management Area Advisory Committee, also addressed the progress that group has been making.
He said that group has been "…moving slowly, but moving in the right direction."
The Groundwater Manage-ment Area Advisory Committee, Elliott said, is a group focused on reducing nitrates in the Yakima Basin's groundwater.
He said the group "…hopes to have a plan in place in a year or two."
Another issue Elliott is focused on is water supply in the Yakima Valley.
"Demands for water continue to increase…the supply is finite."
A number of potential solutions are on the table, including increased water storage near Cle Elum and a number of other reservoirs in the region.
Elliott said there are also conservation efforts under discussion.
Elliott, too, touched on the Yakima County Jail, which has had an inmate shortage because cities on the west side of the Cascades stopped renting jail beds.
However, state legislators have implemented legislation that forces contracts for 300 beds on this side of the mountains.
"We have contracts, but we haven't yet housed any inmates," said Elliott.
He told the Rotarians additional contracts are under consideration and he is hoping that means the Yakima County Jail will begin seeing additional revenues.