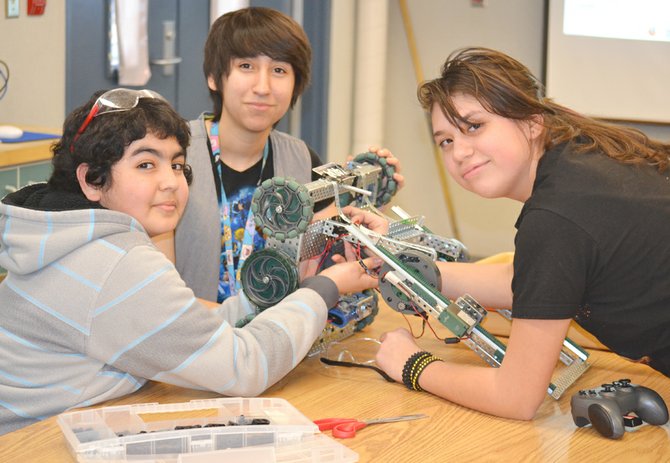 They may have finished second, but Harrison Middle School eighth graders Andrea Barcenas and Margarita Romero punched their ticket to nationals recently with a strong showing at a robotics competition.
Working with a robot they call Gabe, the duo earned the excellence award at the VEX competition in Mattawa.
Teacher Darla Van Corbach explained that the excellence award, which qualified the girls for nationals, usually goes to the first place team. However, Barcenas and Romero garnered the prize because their overall judges, drivers challenge and programming skill scores were higher combined than all other teams.
Barcenas and Romero call their team Robo-nerds and feel the secret to their success was their ability to program Gabe so he could act autonomously. In other words, carry out the assigned tasks through programming they apply beforehand.
The tasks involve collecting and moving balls, and Barcenas says they like to be assertive in getting the work done.
They may have won the biggest prize during the regional competition in advancing to nationals, but Robo-nerds wasn't the only HMS team recognized.
The sportsmanship award was presented to the Harrison Middle School team of Alex Partch, Briteny Zhu, McKensie Nguyen and Emily Villarreal.
Earning the judges award for HMS was the trio of Jose Acevedo, Christian Geike and Jose Hernandez.
Van Corbach says nationals likely won't be the last we hear of Barcenas and Romero.
Barcenas, particularly, the teacher says is a strong programmer. "She understands programming really well," says Van Corbach. "She's going to be an asset for the high school team next year."