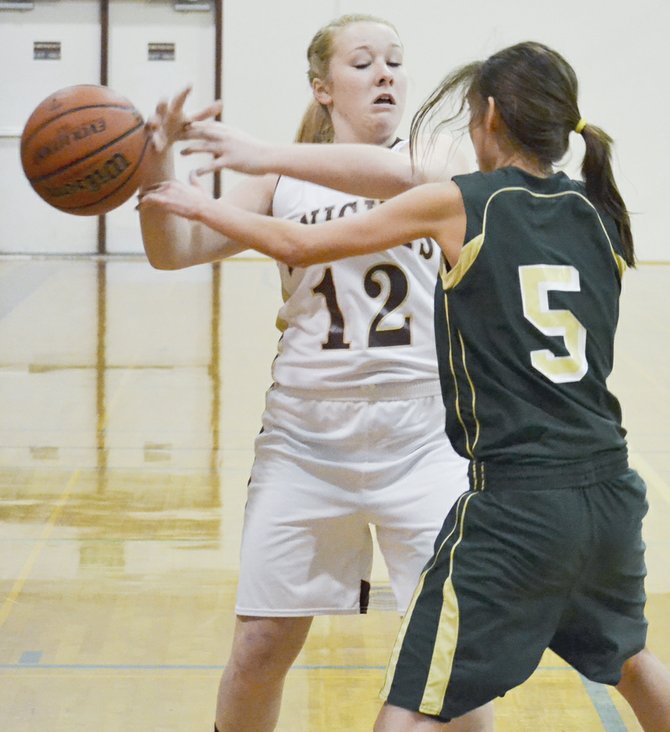 The state's seventh-ranked class 2B team, the DeSales Irish, had no answer for Sunnyside Christian's Stormee Van Belle last night.
The senior exploded for 20 points, most of her buckets coming on offensive putbacks – thanks to the game-high 19 rebounds she snared. Eight of the loose balls Van Belle gathered in came off the offensive glass.
With Van Belle leading the charge, the class 1B Lady Knights made short work of the visiting Walla Walla squad, 51-33. The non-league victory over the Irish boosted Sunnyside Christian's overall record on the season to 14-0.
"Nobody outworks Stormee," Sunnyside Christian Coach Al Smeenk said of Van Belle. "She has a nose for the ball."
A solid presence in the paint, Van Belle also poses a threat from outside, made evident last night when she drained two of her team's four 3-point bombs.
"One some of our trips down the floor Stormee is trailing the action," said Smeenk. "If she's open from beyond the arc and has a good look at the basket, we don't hesitate in getting her the ball."
In preparing for DeSales, Smeenk said his club always figures on a tough game. He said the SCHS players don't need a rah-rah speech from him.
"Our girls are self-motivated.
"I knew they'd come ready to play last night," Smeenk said.
Besides Van Belle coming through big time for the home team, Katelyn Banks turned in a stellar performance. She reached double figures in rebounds collected, 10 in all. Banks also dropped in 7 points, as did teammate Brittany Broersma.
Other contributors for the Lady Knights on the offensive end of the court included Mikki Williams with 6 points, Annie Brouwer with 5, Melissa Dalrymple with 4 and Kristen Broersma with 2 points.
Defensively Monday evening, Sunnyside Christian stepped up to the challenge of shutting down the Irish's flex offense. Basically, that meant denying the DeSales players the pass whenever making a flex cut towards the hoop.
"Whenever they made a flex cut we tried to play on top of them," said Smeenk.
The other goal, he said, was not to give the DeSales players clean looks at the basket.
Mission accomplished for the most part, as the Lady Knights kept DeSales to single-digit scoring in two of the four quarters – giving up just four points in the opening period and five in the third stanza. "Our girls pride themselves on their defense," said Smeenk.
In looking ahead to tonight's non-league game against visiting 1A Burbank, Smeenk said Tuesday evening's contest against the Coyotes should be a great game to watch.
"We know Burbank is plenty tough," he said. "It's nice getting these tougher opponents towards the end of the season. It helps us prepare for postseason play," he said.