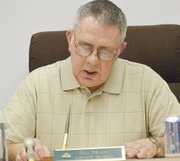 GRANDVIEW – It was not specified for which criminal case the city of Grandview needed to hire an additional public defender.
However, a contract with Attorney Jacob Lara was at Monday's city council meeting approved.
City Attorney Quinn Plant said, "Mr. Lara was the only individual willing to take on the case."
He said the contract was necessary due to attorney conflict.
Plant said there are occasions when there might be an attorney conflict and this is one of those occasions.
Lara will be compensated $600 per case. If the case proceeds to trial, the city will pay him an additional $150.
The Grandview City Council approved the contract by a 4-0 vote.