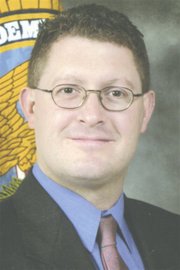 We are a community of people. As people we have the right to make choices. Some choices are healthy, some are not.
While serving this community as a police officer for the past 24 years, I have had the opportunity to see a lot of choices and their consequences.
As a community, we have the right and responsibility to make choices that affect people. These are often seen as laws enacted by a vote of the people.
I-502 legalizing marijuana in our state is a good example, as is RCW 46.61.502 (Driving Under the Influence). When we make choices as a community, I hope we do this for the good of people. I also hope these laws balance our rights under the Constitution with common sense. This is not always the case.
Few people would argue they have a Constitutional right to drink and drive. We all know this law saves lives.
The majority of voters in our state believe they should have a right to consume marijuana. Many of these people would draw the line at cocaine or methamphetamine.
Most of us know that cigarettes and other forms of tobacco are not good for you, driving a car without wearing a seatbelt is dangerous and you should wear a helmet while riding a bike or a motorcycle. For the most part, we have done a good job of educating each other about these actions.
The difficulty I see is the impact poor choices have on our society and especially our children.
As a strong supporter of the Constitution, I would give my life to protect our rights. Unfortunately, in our efforts to do good as a nation, we have taken away many of the consequences for bad choices. We have created a nationwide culture of refusing to accept responsibility. This leads to the belief that if you destroy your life and ability to create income, society will take care of you.
I have seen numerous lives severely impacted by drunk drivers. I have known several lives to be lost to lung cancer. I have seen lives permanently altered by methamphetamine use. I have seen young lives destroyed at underage drinking parties. All of these consequences cost us both emotionally and financially.
I must admit, I support laws that prevent or restrict individual choice about these topics.
I-502 legalizes the possession and use of marijuana to adults 21 years old and older. It allows the possession of "marijuana" drug paraphernalia and up to one ounce of marijuana. Marijuana can only be purchased at a licensed marijuana retailer; you can't grow your own. You can't drive a vehicle under the influence and employers still have the right to fire anyone violating drug-free work place rules.
What did we forget? The simple answer is the consequence.
We have seen a significant change in the attitudes of our young people towards this drug. As police officers, we hear "what's the big deal? It's not like I'm smoking cigarettes. I know cigarettes and alcohol are bad for you, but marijuana is natural."
With positive attitudes towards marijuana, we are seeing a increase in the possession and use by youth.
Why is this a problem? Learning! Through Sunnyside United and the work of Cathy Kelley, we were shown the results of studies on youth learning. Unsurprising were the dramatic effects of alcohol, tobacco and marijuana on the learning ability of our youth.
As a community member and a citizen of this great nation, I recognize the need for educated people. It has been obvious to me for years that we are losing our position in the world as a leader. There are a lot of problems ahead of us that we will need great minds to help overcome. We need our children to get great educations and contribute their best to our community.
As community members, we need to take responsibility. If you choose to use alcohol, tobacco or marijuana, recognize that you are demonstrating to your children that you approve of it. Explain the risks and consequences to them. Help them understand why their education must come first.
Don't ignore the underage drinking party at your neighbor's house. Don't let your children drink or use drugs. When you see something, say something.
‑ Phil Schenck, Commander, Sunnyside Police Department