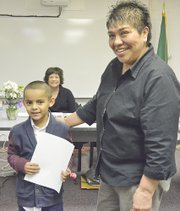 MABTON – Students and teachers will have access to new technology in the near future.
That's according to Technology Director Sergio Razo.
He told the Mabton School Board at this past Monday night's meeting that there are several pieces of the district's technological systems that are no longer functioning, including a server.
However, the district has been in the process of updating its systems using E-rate funding awarded to the district by the Federal Communications Commission.
"Technology never stops," Razo said.
He said he believes in aligning the school district's access to technology with its vision statement, engaging students in the world around them and providing them access to the tools necessary for a quality education that will lead to success in the world.
"Technology gives students the opportunity to learn and relate to the world," said Razo.
He said Ednetics has been contracted to provide the Mabton School District with internet services. Because of the system changes the district will need to consider a new domain name for its website.
To remedy the issue with servers, Razo said, the district will soon have virtual servers via a virtualization project to be completed. That means 10 servers will be migrated to one virtual server, saving space and capacity.
The district's phone services are also changing via the contract with Ednetics. A voice over internet protocol system will replace the district's current phone system.
"As we connect multiple services, we receive discounts to provide the best possible services to the district," said Razo.
Another technology upgrade planned is a change in the district's library system. Razo said students only have access to one computer in the library when looking for reference materials.
A new system, Follett Library, will allow students easier access to the library catalog via any computer.
Razo said many of the updates are in the process of being implemented and the district is on a tight time frame to best utilize the funding it has received.