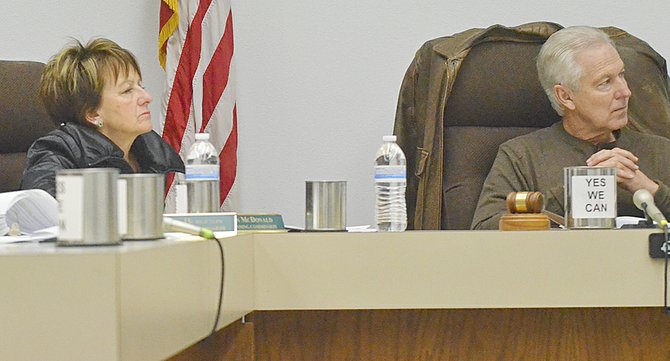 GRANDVIEW – Grandview's Planning Commission does not believe there is any benefit to allowing recreational marijuana merchants set up shop within city limits.
The commission was tasked with deciding what recommendation it would give the Grandview City Council for land use ordinances for retailers, processors and producers of recreational marijuana.
The commission was told Wednesday night that it could also recommend a ban on such operations.
Attorney Quinn Plant of Menke Jackson Beyer Ehlis & Harper told the commission, "A lot of cities are trying to figure out the best approach."
He said those seeking to open a recreational marijuana business must file for licenses with the Washington State Liquor Control Board.
Grandview, he said, has not been notified that any applications have been filed.
To be considered, said Plant, is the fact that county commissioners have chosen to ban recreational marijuana businesses in the unincorporated areas of Yakima County. "They may seek to do business inside the city," he said.
Planning Commissioner Dennis Byam said he was having a hard time reconciling the law implemented under I-502 because "…it's still federally illegal."
Commissioner Jan McDonald said she has personal knowledge regarding the negative impact of drug use. She said she is concerned about the potential dangers to children.
Commissioner Dale Bergeson said he, too, has seen the negative impact of addiction. He said that is his primary concern.
The planning commissioners said they realize recreational marijuana use is still illegal for minors. They understand retailers cannot sell marijuana to anyone under the age of 21.
However, McDonald said, minors still gain access to alcohol although it is illegal for minors to consume it.
She said she would prefer a ban on recreational marijuana businesses, but if the commission was to recommend zoning restrictions, "…I say we make it difficult."
City Clerk Anita Palacios said the commission had options it could consider. She told the planning commission that a decision did not need to be made right away.
Plant told the commissioners they could recommend zoning restrictions. He said they could recommend a larger buffer zone, prohibiting marijuana businesses from operating within 1,000 feet of a residential zone, for instance "…or you could ban it."
He told the commission it may need to revisit the zoning options in the event that new legislation is passed, preventing municipal governments from banning recreational marijuana retailers, processors and producers.
Commissioner Kathy Gonzalez in regard to further consideration said, "I don't think we are going to change our minds."
The Grandview Planning Commission by a 4-0 vote decided to forward to the city council a recommendation banning marijuana businesses from operating within the city of Grandview.