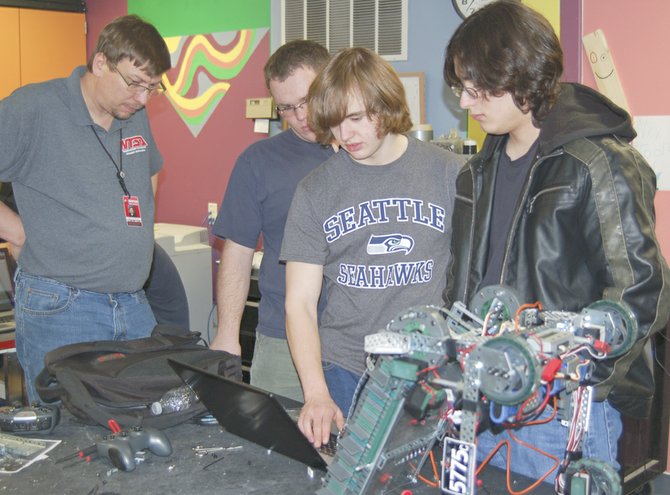 A team of three Sunnyside students, Cody Woodworth, Sebastian Castellanos and Ethan Partch, once again brought home a championship for the school from a robotics contest at East Valley this past Saturday. The team also brought home the Excellence Award from the same competition.
Four Sunnyside High School robotics teams, including the trio that won top honors in East Valley, are already qualified to go to the State competition, to be held on Sunday, Feb. 16, in Toppenish. The ultimate goal for the SHS VEX robotics teams is to qualify for the world competition, to be held in Anaheim in April.
The goal for robots in this year's VEX competition is to put balls into a cylinder. It may sound like a simple task, but it takes some complicated engineering to best other robots in the timed event while meeting the goal.
Each robot is designed with strict specifications using VEX brand components, including a limit on motors (10), how many balls it can hold at one time (3) and a requirement to use specific control devices.
But within the confines of the rules, the robotics teams can get very creative. The results are robots that may appear the same at first glance, but accomplish the goal in different ways.
In the process of building a competitive robot, the students learn engineering with an emphasis on how to get computer software working correctly with the physical robots to make things happen.
The advisor for the SHS robotics teams, Spencer Martin, is proud of how well his students are doing this year. With all four teams qualified for the State competition, he hopes to be able to send a large group, perhaps with middle school students as well, to Anaheim. However, there is one downside to the success.
"Almost all my robotics team (members) graduate this year," he said. "Only four of them aren't seniors."