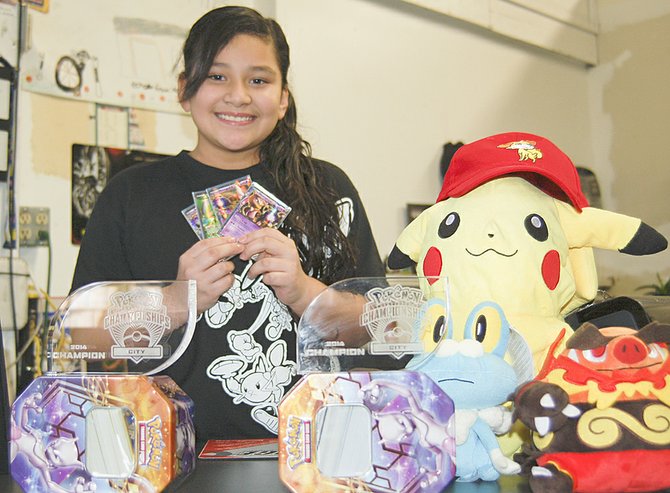 She's only been playing the Pokémon Trading Card Game for about a year, but Maria Herrera of Sunnyside recently earned two Pokémon city championships on the Premier Championship circuit, and hopes to do well at a regional competition in Utah in April.
Herrera, 9, now has two trophies in her collection along with championship points that could earn her an invitation to the national championships if she continues winning.
The game uses a combination of various skills, including mathematics and forward planning. Players compete with decks they've created from their personal card collections. Game play involves adding, subtracting and multiplication as players pit their cards against their opponent's cards.
Herrera has mastered the skills needed to create a winning deck and play it to her best advantage. Those skills helped her to victory over a handful of other players at the city championships in Richland and Spokane.
In addition to the junior division trophies, Herrera received 20 packs of the latest set of cards for each victory. She said she also got a pin just for participating in each competition.
Herrera said she learned the game from her older brother and sister, but she'd like more people to play against locally.
"People can talk to me if they want to know more," she said. "Some people in my class play, but some just collect the cards and don't know how to play the game."
Herrera said learning the game has helped her with her math skills. Her mother noted that sometimes the players are adding large numbers very quickly to determine their next move.
Planning her deck took some time as well. Each competition deck is made up of 60 cards. She said it took her about five months to get enough of the right cards to compete.
The cards come in three different types. The Pokémon cards represent the creatures that the players are battling with. The players also must provide their creatures with energy, which comes from energy cards. Another type of card can make other actions happen, such as healing a creature or allowing a player to draw more cards.
A deck has to be balanced between the three types to win. Finding the right balance takes effort and planning.
Herrera also went to a regional competition in Salem, Ore. recently. She didn't win, but she enjoyed the experience of matching skills against veteran players.
"There were about 50 players there," she said.
She'd love more local competitions.
"I'm always looking for someone to play against," she said.