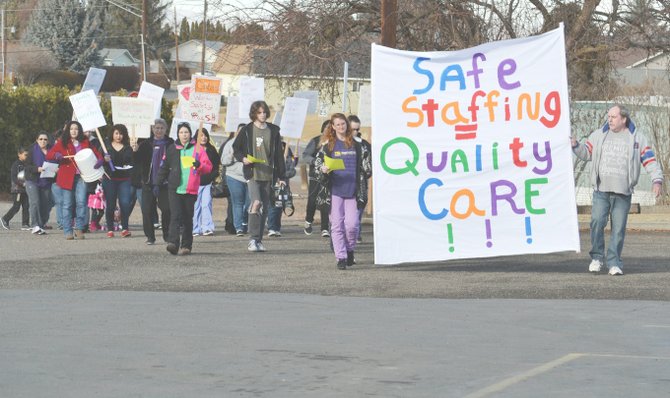 GRANDVIEW – For the second time in three months, local Prestige Healthcare workers picketed to protest what they feel are unsafe working conditions.
Sunnyside's Prestige Healthcare was the focus of a picket last November and yesterday, Thursday, the Vancouver-based firm's Grandview site was the target.
Like the Sunnyside picket, Prestige Care was provided notice in advance of the picket, which was not a strike but rather an effort to communicate worker concerns.
Jackson Holtz is a spokesman for the healthcare union representing Prestige workers, and he says the concern continues to be lack of a contract with Prestige and low pay that is barely above minimum wage.
The issue, he says, dates back more than a year to when Prestige purchased Eagle Healthcare.
Holtz says workers haven't had a contract since then, and contends that has led to workplace safety issues. It's a claim backed up by Alice Pena, a licensed nurse who works at the Grandview site and was one of those picketing.
"We should have five CNAs working per shift and we only have four," Pena asserts.
She says it creates a safety issue because there aren't always two employees available for "2-person assists" in which a resident requires two people to lift them for daily tasks.
Pena says the lack of a contract and reduction in working hours is only part of the issue. In addition, she claims an employee was terminated last fall, as least in part, because of her activity on behalf of the union.
Pena noted the employee had already clocked out following her shift and left the Grandview building only to find that a resident of the home had left as well and was outside.
"She tried to alert a supervisor but couldn't find one," said Pena, who alleges the situation had happened at least twice previously with other employees.
Prestige spokesperson Hollie Fowler declined to address details about the terminated employee.
"Out of respect of privacy for staff, we can't discuss the details of specific employment issues," she said. "What I can tell you is that we hold ourselves to providing the highest level of care and safety for residents and our entire community."
Fowler continued, "As for the employee in question, in instances when resident safety is compromised, even to the slightest degree, we take it very seriously and conduct an internal investigation into the actions of our staff. Following our employment policies and procedures, the findings of the investigation dictate the outcome for those involved. In this instance, we concluded that the employee's conduct warranted termination."
She says Prestige's top priority continues to be providing residents and patients "…the highest level of compassionate care and service."
Harry Aubert is administrator for Prestige in Grandview, and he says the five-star level of care earned by the nursing home is because of its employees.
He says an issue for Prestige and other nursing homes in Washington state is the low reimbursements they receive for Medicaid patients and residents.
Yet, he understands employees' desire to picket and communicate their concerns. "We wouldn't be where we are without them," he said.