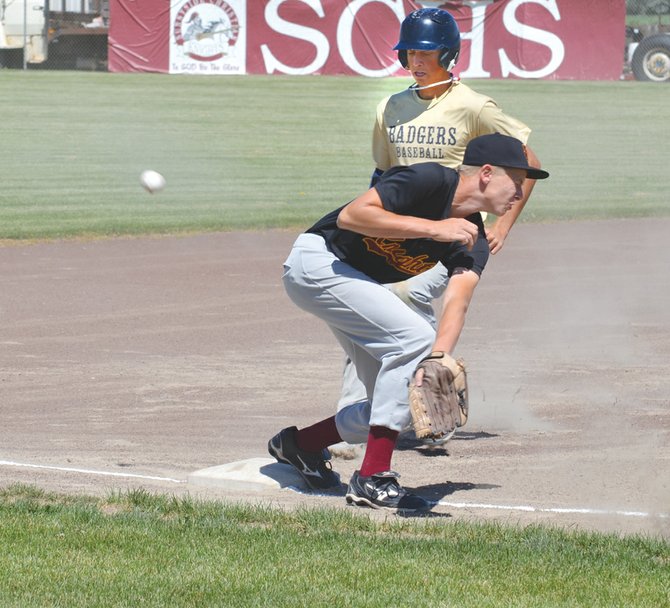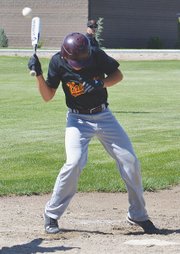 The Sunnyside Christian Knights didn't exactly bring their 'A' game to last Friday's home twin bill against visiting Tri-City Prep.
Issuing 17 walks on the day, committing eight fielding errors and allowing far too many pitches to reach the backstop, the SCHS summer baseball club got swept by the Badgers, 13-1 and 16-2.
"It wasn't our best performance this summer," admitted SCHS Coach Tyler Alseth.
The two losses on Friday dropped the Knights' record to 4-6. Sunnyside Christian will try to get back to .500 when it hosts a team from Stanfield, Ore. this coming Wednesday. The doubleheader is scheduled to start at 3 p.m.
In last Friday's opener, the visiting Badgers nearly recorded a no-hitter. The no-no went out the window, though, when Reid Benjert slapped a two-out double in the bottom of the last inning.
Sunnyside Christian scored its one and only run in the first game in the second inning. Ryan Roedel coaxed a walk from the Tri-City Prep pitcher, moved up into scoring position with a steal, then raced home when the Badgers third baseman committed an error. It was the only miscue Tri-City Prep had in the opener.
The Badgers took firm control when they plated four, first-inning runs off starting pitcher Adrian Heffron. He was unable to get out of the first, and was replaced by Brandon Moore.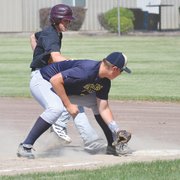 Following another rocky inning in the second, when the Knights gave up another six runs, Moore settled into a groove and only yielded three more runs over the last three frames.
The first contest was called after five innings because of the 10-run mercy rule.
Although the nightcap, too, was a shortened five-inning affair, the Knights gave a much better accounting of themselves.
Starting pitcher Ryan Bangs, who'll be a senior at Sunnyside Christian this fall, went three full innings while scattering just four hits.
Bangs, said Alseth, didn't see any real time on the mound this past spring for the Knights. Next spring, however, Alseth said Bangs will be counted on as one of his starting pitchers.
"I was pleased with how Ryan threw last Friday," said Alseth. "He has a real decent curveball."
When Bangs was lifted from last Friday's game, the Knights were trailing by just four runs.
The relief corps for the Knights wasn't as fortunate, as the three different hurlers Alseth used to close out the twin bill finale let in 10 runs.
Hitting-wise in game two, Sunnyside Christian got a 2-for-2 effort from Wyatt Hoff. He singled in the first inning and eventually scored on a passed ball. Hoff also singled in Ryan Groeneweg in the bottom of the third, who reached base after getting plunked with a pitch.
Benjert added a 1-for-2 offensive performance in the second-game loss.