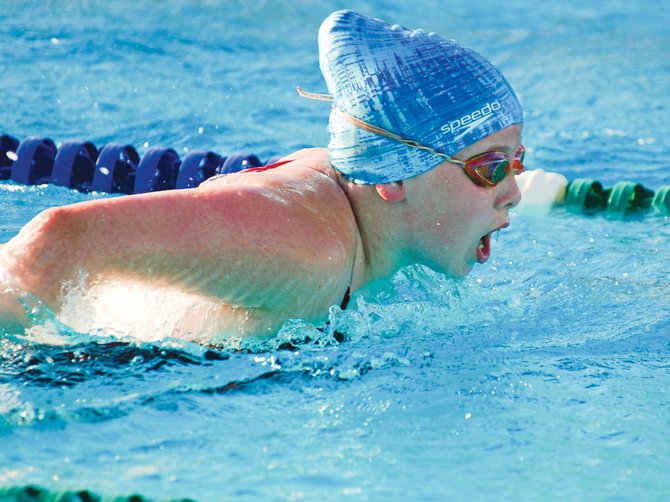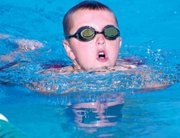 GRANDVIEW – Despite some splashy performances by Grandview's Brendon Lynch-McGhan and Tavian Valenzuela, the visiting Othello Barracudas made off with a 383-336 decision against the host Neptunes last night.
Lynch-McGhan, a boys 18&U competitor, swept all four 40-yard races in his age division. He also bested Othello's lone entry – Chase Johnston - in the 160-yard individual medley by more than a 20-second margin. Lynch-McGhan, too, swam on the winning boys 18&U medley and freestyle relay squads.
Valenzuela, at boys 16&U, racked up six wins on the night. In the only event he didn't emerge the victor – the 40-yard butterfly – he finished second to teammate Baeley Febus.
The Neptunes also received a stellar performance from their top contender in the boys 10&U age division – Damian Smasne. He claimed top honors in the 40-yard butterfly, backstroke and freestyle races, as well as in the 160-yard IM.
Grandview teammate Abby Cromwell also enjoyed a good night against the Barracudas. A girls 16&U swimmer, she won the 40-'fly and breast events, and the 160-IM.
Nicolas Cortez, too, found success against Othello. Competing at boys 12&U, he took the top spot in the 40-yard breaststroke and backstroke races. Cortez also swam legs on the winning medley and freestyle relay squads in his age division.
As well as the Neptunes performed Tuesday evening, Othello was able to counter with some nifty, and spectacular, performances of its own.
Leading the way for the Barracudas were Shaya Parrish at girls 12&U and Hunter Sparks at boys 14&U. The two swimmers each swept all five individual races in their respective age divisions.
Othello also got a four-victory performance from girls 14&U competitor Joey Taff.
Cain Muro, at boys 8&U, and Chelsea Fields, at girls 10&U, each notched three wins for the Barracudas.
Two-time winners for Othello included Lilia Parrish at girls 8&U and Daniel Martinez at boys 12&U.
The narrow defeat to the Barracudas last night dropped Grandview to 1-5 in Mid-Valley Summer Swim League play. The Neptunes are scheduled to compete in Toppenish's pool against the Tarpons this coming Thursday.
160-YARD MEDLEY RELAY
Girls 10&U
1st-Othello 2:47.01
Girls 12&U
1st-Othello 2:16.70
Boys 12&U
1st-Grandview 2:32.93
Girls 14&U
1st-Grandview 2:14.24
Girls 18&U
1st-Othello 2:07.30
Boys 18&U
1st-Grandview 1:45.06
40-YARD BUTTERFLY
Girls 8&U
1st-Lilia Parrish (O) 53.40, 2nd-Allie Cromwell (G) 1:01.61, 3rd-Lilli Sharpe (G) 1:03.41, 4th-Hazel Ramirez (O) 1:07.81
Boys 8&U
1st-Cain Muro (O) 50.85, 2nd-Luke Cortez (G) 53.92
Girls 10&U
1st-Chelsea Field (O) 36.70, 2nd-Elaina Parrish (O) 39.92, 3rd-Kailey Muro (O) 49.84, 4th-Alex Rodriguez (O) 52.88
Boys 10&U
1st-Damian Smasne (G) 45.01, 2nd-Anthony Rodriguez (G) 45.29, 3rd-Joaquin Cortez (G) 54.80, 4th-Ian Sharpe (G) 56.37
Girls 12&U
1st-Shaya Parrish (O) 28.64, 2nd-Molly Jensen (O) 32.07, 3rd-Alexis Simmons (O) 33.32, 4th-Taylor Taff (O) 35.11
Boys 12&U
1st-Daniel Martinez (O) 36.69, 2nd-Nicolas Cortez (G) 39.77, 3rd-Andrew Velazquez (O) 42.43, 4th-Tomy Ramirez (O) 42.56
Girls 14&U
1st-Joey Taff (O) 26.25, 2nd-Lauren Binfet (G) 31.20, 3rd-Caitlin McGhan (G) 31.73, 4th-Maxine Ocampo (G) 32.01
Boys 14&U
1st-Hunter Sparks (O) 22.40, 2nd-Nathaniel Gutierrez (G) 26.80, 3rd-Nathan Barrientes (G) 29.93, 4th-Jonathan Flores (G) 33.61
Girls 16&U
1st-Abby Cromwell (G) 28.15, 2nd-Nicole Douglas (O) 28.43, 3rd-Meghan Ramon (O) 31.13, 4th-Isabel Vasquez (O) 32.36
Boys 16&U
1st-Baeley Febus (G) 23.39, 2nd-Tavian Valenzuela (G) 23.92, 3rd-Ethan Johnston (O) 24.84
Boys 18&U
1st-Brendon Lynch-McGhan (G) 24.40, 2nd-Chase Johnston (O) 27.03
40-YARD BREASTSTROKE
Girls 8&U
1st-Hazel Ramirez (O) 1:00.76, 2nd-Lilia Parrish (O) 1:04.73, 3rd-Allie Cromwell (G) 1:06.84
Boys 8&U
1st-Luke Cortez (G) 45.66, 2nd-Cain Muro (O) 50.53
Girls 10&U
1st-Jazmine Richey (G) 42.46, 2nd-Gabriela Rodriguez (O) 43.04, 3rd-Chelsea Field (O) 43.22, 4th-Kailey Muro (O) 44.28
Boys 10&U
1st-Anthony Rodriguez (G) 42.05, 2nd-Cade Rodriguez (O) 51.27, 3rd-Damian Smasne (G) 51.52, 4th-Ethan Padgham (G) 55.27
Girls 12&U
1st-Shaya Parrish (O) 38.07, 2nd-Isabella Pruneda (O) 38.78, 3rd-Alexis Simmons (O) 40.15, 4th-Kayla Guzman (O) 40.61
Boys 12&U
1st-Nicolas Cortez (G) 34.18, 2nd-Izak Garza (G) 36.76, 3rd-Daniel Martinez (O) 37.44, 4th-James Barrientes (G) 40.52
Girls 14&U
1st-Lauren Binfet (G) 32.22, 2nd-Rosa Johnson (O) 35.37, 3rd-Maxine Ocampo (G) 35.86, 4th-Cassandra Ruiz (G) 36.57
Boys 14&U
1st-Hunter Sparks (O) 26.92, 2nd-Nathaniel Gutierrez (G) 34.28, 3rd-Nathan Barrientes (G) 36.21, 4th-Westly Lakins (G) 41.06
Girls 16&U
1st-Abby Cromwell (G) 30.71, 2nd-Nicole Douglas (O) 32.03, 3rd-Meghan Ramon (O) 36.20, 4th-Aliya Garcia (G) 39.35
Boys 16&U
1st-Tavian Valenzuela (G) 26.12, 2nd-Ethan Johnston (O) 31.10, 3rd-Baeley Febus (G) 31.75
Boys 18&U
1st-Brendon Lynch-McGhan (G) 28.82, 2nd-Chase Johnston (O) 33.20
40-Yard BACKSTROKE
Girls 8&U
1st-Jedida Ramos (G) 51.09, 2nd-Lilia Parrish (O) 55.03, 3rd-Magali Marroquin (O) 57.90, 4th-Hazel Ramirez (O) 1:06.60
Boys 8&U
1st-Cain Muro (O) 53.13, 2nd-Luke Cortez (G) 1:00.80, 3rd-Noah Martinez (O) 1:06.02, 4th-Andrew Hollingsworth (G) 1:37.88
Girls 10&U
1st-Chelsea Field (O) 41.06, 2nd-Elaina Parrish (O) 41.27, 3rd-Kailey Muro (O) 49.91, 4th-Gabriela Rodriguez (O) 50.65
Boys 10&U
1st-Damian Smasne (G) 42.28, 2nd-Joaquin Cortez (G) 50.63, 3rd-Anthony Rodriguez (G) 53.37, 4th-Ethan Padgham (G) 57.33
Girls 12&U
1st-Shaya Parrish (O) 32.42, 2nd-Alexis Simmons (O) 34.72, 3rd-Molly Jensen (O) 36.81, 4th-Taylor Taff (O) 37.51
Boys 12&U
1st-Nicolas Cortez (G) 36.84, 2nd-Daniel Martinez (O) 37.05, 3rd-Tomy Ramirez (O) 38.42, 4th-Andrew Velazquez (O) 39.21
Girls 14&U
1st-Joey Taff (O) 29.05, 2nd-Maxine Ocampo (G) 35.06, 3rd-Caitlin McGhan (G) 36.71, 4th-Rosa Johnson (O) 37.06
Boys 14&U
1st-Hunter Sparks (O) 25.96, 2nd-Nathaniel Gutierrez (G) 28.76, 3rd-Nathan Barrientes (G) 32.78, 4th-Jonathan Flores (G) 35.55
Girls 16&U
1st-Nicole Douglas (O) 31.91, 2nd-Meghan Ramon (O) 31.97, 3rd-Isabel Vasquez (O) 32.63, 4th-Abby Cromwell (G) 34.93
Boys 16&U
1st-Tavian Valenzuela (G) 26.84, 2nd-Baeley Febus (G) 27.26, 3rd-Ethan Johnston (O) 27.72
Boys 18&U
1st-Brendon Lynch-McGhan (G) 26.70, 2nd-Chase Johnston (O) 33.75
40-Yard FREESTYLE
Girls 8&U
1st-Jedida Ramos (G) 44.59, 2nd-Hazel Ramirez (O) 46.03, 3rd-Magali Marroquin (O) 50.72, 4th-Lilia Parrish (O) 51.34
Boys 8&U
1st-Cain Muro (O) 37:03, 2nd-Luke Cortez (G) 42.19, 3rd-Noah Martinez (O) 53.36, 4th-Andrew Hollingsworth (G) 1:07.88
Girls 10&U
1st-Kailey Muro (O) 31.92, 2nd-Chelsea Field (O) 32.14, 3rd-Elaina Parrish (O0 32.18, 4th-Gabriela Rodriguez (O) 40.45
Boys 10&U
1st-Damian Smasne (G) 33.09, 2nd-Anthony Rodriguez (G) 37.16, 3rd-Ethan Padgham (G) 43.86, 4th-Justin Adamson (G) 45.42
Girls 12&U
1st-Shaya Parrish (O) 27.09, 2nd-Molly Jensen (O) 27.64, 3rd-Taylor Taff (O) 28.01, 4th-Alexis Simmons (O) 29.94
Boys 12&U
1st-Alex Martinez (O) 43.41
Girls 14&U
1st-Joey Taff (O) 25.28, 2nd-Jaelei Grant (G) 25.93, 3rd-Kendall Roberson (G) 26.63, 4th-Sarah Wilson (O) 27.68
Boys 14&U
1st-Hunter Sparks (O) 20.53, 2nd-Nathaniel Gutierrez (G) 24.12, 3rd-Nathan Barrientes (G) 25.06, 4th-Jonathan Flores (G) 27.45
Girls 16&U
1st-Meghan Ramon (O) 25.27, 2nd-Abby Cromwell (G) 25.67, 3rd-Nicole Douglas (O) 25.75, 4th-Aliya Garcia (G) 27.73
Boys 16&U
1st-Tavian Valenzuela (G) 20.43, 2nd-Ethan Johnston (O) 22.55, 3rd-Baeley Febus (G) 23.60
Boys 18&U
1st-Brendon Lynch-McGhan (G) 21.47, 2nd-Chase Johnston (O) 22.98
160-Yard FREESTYLE RELAY
Girls 10&U
1st-Othello 2:31.63
Boys 10&U
1st-Grandview 3:39.34
Girls 12&U
1st-Othello 1:57.69
Boys 12&U
1st-Grandview 2:07.24
Girls 14&U
1st-Grandview 1:57.42
Girls 18&U
1st-Othello 1:46.91
Boys 18&U
1st-Grandview 1:33.14
160-Yard INDIVIDUAL MEDLEY
Girls 10&U
1st-Chelsea Field (O) 2:56.82, 2nd-Elaina Parrish (O) 3:06.73, 3rd-Jazmine Richey (G) 4:34.22
Boys 10&U
1st-Damian Smasne (G) 3:35.64, 2nd-Anthony Rodriguez (G) 3:48.56, 3rd-Joaquin Cortez (G) 3:51.00, 4th-Justin Adamson (G) 4:30.81
Girls 12&U
1st-Shaya Parrish (O) 2:39.31, 2nd-Alexis Simmons (O) 2:52.29, 3rd-Molly Jensen (O) 2:55.33, 4th-Isabella Pruneda (O) 3:05.80
Boys 12&U
1st-Daniel Martinez (O) 2:54.75, 2nd-Tomy Ramirez (O) 3:11.75, 3rd-Avery Field (O) 3:21.13, 4th-Aiden Trevino (G) 3:21.78
Girls 14&U
1st-Joey Taff (O) 2:22.78, 2nd-Caitlin McGhan (G) 2:36.92, 3rd-Lauren Binfet (G) 2:39.29, 4th-Kendall Roberson (G) 2:43.63
Boys 14&U
1st-Hunter Sparks (O) 2:02.81, 2nd-Nathaniel Gutierrez (G) 2:20.49, 3rd-Jonathan Flores (G) 2:47.62, 4th-Westly Lakins (G) 3:01.23
Girls 16&U
1st-Abby Cromwell (G) 2:31.48, 2nd-Meghan Ramon (O) 2:34.94, 3rd-Nicole Douglas (O) 2:36.80, 4th-Aliya Garcia (G) 2:50.52
Boys 16&U
1st-Tavian Valenzuela (G) 2:04.68, 2nd-Ethan Johnston (O) 2:17.99, 3rd-Baeley Febus (G) 2:19.99
Boys 18&U
1st-Brendon Lynch-McGhan (G) 2:10.98, 2nd-Chase Johnston (O) 2:31.88