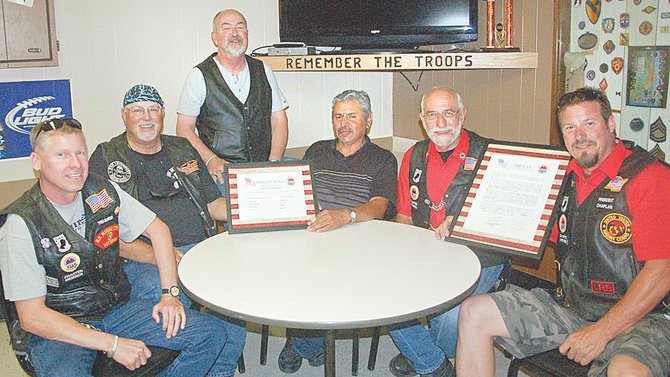 Don't call their group a club.
"We are not a club," said Dave Ricard, president of Washington state's first AMVETS motorcycle riding chapter. "We are proud to be veterans and we love riding motorcycles."
The Sunnyside AMVETS Riders, Chapter #3733, charted to become a part of the national AMVETS Riders organization last month during the annual Washington State Department of AMVETS convention held in Yakima.
"We ride motorcycles and we are veterans," he said.
The Sunnyside chapter is one of about a thousand chapters across the nation. Most of the chapters are located in the Midwest and in Florida, said Ricard, "…but there is a growing interest in chartering chapters in Washington state."
Community service and fellowship are the primary goals of the chapter. The major goal for the Sunnyside organization will be to spread awareness about veterans and the increasing number of suicides among service men and women, Ricard explained.
"National statistics claim that every day 22 veterans commit suicide," said Ricard, a Sunnyside High School graduate.
"We want people to be aware of that and we want to let others know about how they can help," he added.
Ricard said Sunnyside AMVETS Riders, Chapter #3733 membership is open to all AMVETS in good standing and their supporters.