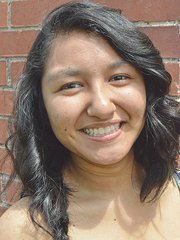 Diana Calderon says she "…would love to be Miss Sunnyside because it's a unique experience to show others why I love my community."
She is the daughter of Jusina Sandoval and Leo Calderon of Mexico. She and her twin brother live with their aunt, while their two older brothers and two older sisters live with their parents.
Calderon, one of 14 young hopefuls vying for the Miss Sunnyside title, said Sunnyside has provided her many opportunities and she wishes to show others "…the good in the community."
She said she wants people living outside the community, as well as those who live in Sunnyside, to know there are good people living here willing to help one another.
For the talent segment of the 2014-15 Miss Sunnyside Pageant, Calderon plans to sing "Jesus Take the Wheel." She said she may choose another ballad before the Oct. 5 pageant, however.
If chosen to serve as Miss Sunnyside, she plans to work with the Sunnyside Library as her community service project. She wants to plan a reading program to help younger children learn the value of spending at least 30 minutes a day reading.
"The library hosts a lot of activities and helps young children learn how to use their time without computers, tablets and other electronics," said Calderon.
She said the Miss Sunnyside court can help with these activities, emphasizing the importance of learning through books.
"It's important to get away from technology," said Calderon, stating youngsters need to "unplug."
Parents, too, she said, can learn the importance of education, helping their young children to read.
"Reading can lead to a better future," said Calderon.
She is proud of her community and said Sunnyside is a unique place to live. She said she sees parents encouraging youth to serve others.
"They teach their children to help others, volunteering or by finding small jobs at an early age," said Calderon.
She said teaching youth to help their community teaches a work ethic, as well as the importance of serving those who may need help.
"If we help our community now, it will be a better place," Calderon said.
She said serving others gives youngsters a sense of pride and a greater appreciation for the community.
"When they go to college, they can share the positive experiences they had growing up in Sunnyside," said Calderon.
She and the other Miss Sunnyside contestants will be competing for the crown at the Miss Sunnyside Pageant at 1:30 p.m. on Sunday, Oct. 5, at the Sunnyside High School auditorium