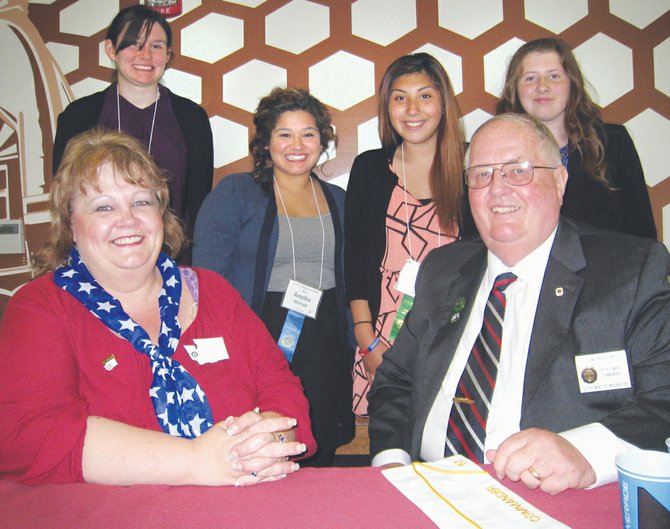 The Evergreen Girls State delegates have returned from a week at Central Washington University with a greater appreciation and understanding of how the government and judicial system works.
That's according to Sunnyside High School delegates Kaitlynn Cone and Angelica Mercado.
The pair were joined by Anel Garcia and Alexis Oxley of SHS, Susana Benitez and Maribel Alcocer of Grandview High School, and Prosser High School's Zoe Wilson.
Each of the girls was assigned a "city," which is a set of roommates for the week.
Cone lived in the city of Sotomayor, which was in Adams County.
Mercado said she lived in Dunn City in Mount St. Helens County.
Each of the young women had an opportunity to serve in government while attending Girls State.
Mercado was elected to serve as a state senator, while Cone had the responsibility of serving as county clerk. Cone also had the experience of being a defendant in a murder trial.
"We all laughed about that," she said, stating she is typically a quiet and kind individual.
Because of her dual roles, she was able to experience the judicial system from two different perspectives.
As the county clerk, Cone kept notes during a civil case involving cyberbullying. She was also present for a Supreme Court case involving urine analysis for athletes in middle and high school.
As a murder suspect, Cone said, she was able to see how cases are presented, evidence is managed and the judicial guidelines are followed.
"There are so many layers to the judicial system, it's kinda crazy," said Cone, who said she was a man accused of killing his girlfriend.
Mercado, serving as a state senator, co-sponsored a bill that required anyone profiting from cutting down trees to re-plant them. She said reforestation is an important issue and the bill mandated that profiteers pay a large fine if they did not replant trees within a certain timetable.
"It passed the Senate and the House, but the governor vetoed the bill," she said.
Both of the delegates said they enjoyed experiencing the government and judicial systems.
They said they have a new group of friends as a result of the experience.
"I went into this pretty much blind," said Mercado, stating she didn't know a lot about how government works. "This was a hands-on experience."
Cone said her background in government and the judicial system was the knowledge acquired in AP history class. "I learned a lot more at Girls State."
The girls said the weeklong experience kept them busy.
"It was exhausting," said Cone.
Mercado said the members of the Senate spent three hours on one bill.
Keeping the atmosphere light-hearted, however, was the Senate secretary. Mercado said the secretary made up a cheer that grew in popularity among everyone attending the conference.
"It became so popular that a bill was passed for her to return and perform each year," said Mercado.
Becoming more serious, Mercado said government seems more real to her after the Girls State experience.
She said the Senate was able to override the governor's veto on one bill. "It required two-thirds of the Senate…having the chance to undo the governor's decision was empowering."
Cone said her experiences make her want to pay more attention to judicial cases that make headlines.
She said she enjoys crime television, but that hadn't prepared her for what she learned.
"I now understand how judicial rules may impact a case and how it is decided," said Cone.
Both agreed they would return to Girls State if they had the opportunity.
"My roommates and I discussed a few things we would change, but the overall experience was eye-opening," said Cone.