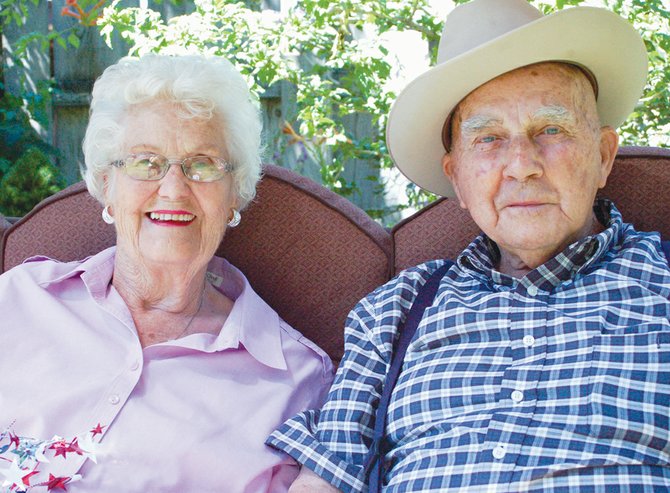 Being chosen as the grand marshal for the Sunnyside Lions Club Independence Day Parade is both a shock and thrill for longtime Sunnyside resident Ralph Prescott.
"I wondered why me," said the World War II veteran. "But we are sure honored to have been chosen to lead the parade."
Prescott and his wife of 68 years, Alice, will ride in a yellow vintage World War II jeep, driven by Janice Schell of Prosser.
"We are very happy Mr. Prescott agreed to lead this year's Fourth of July parade, which for the first time will begin at 4 p.m.," said Barbara Bloomfield-Lange, chairman of this year's celebration.
"We always like to honor our military and our veterans at this parade," she said.
"We are also excited about our new parade time. We hope that by making the parade later in the day, we will be able to attract more participants.
"And we hope we'll attract more parade-goers, whom we hope will follow us on down to Sunnyside High School's Clem Senn Football Stadium, where the real action starts," said Bloomfield-Lange.
This year's parade will be following a new route, Bloomfield-Lange added.
Due to Sunnyside's downtown street construction, set-up for the parade will be on Warehouse Avenue between North Sixth Street and North First Street, with the staging area and registration table to be located at the North First Street and Warehouse Avenue intersection, she said.
The route itself will follow North First Street to Zillah Drive, then on to East Edison Avenue and straight past the Sunnyside Centennial Square announcement stand, then on to 16th Street, ending at the Sunnyside High School and Harrison Middle School parking lots.
The gates to Clem Senn Stadium will open to the public at 4 p.m.
One of the things Bloomfield-Lange is very excited about is the added attraction of the "Donate to Detonate" raffle from which the winner will be given an opportunity to start Friday night's pyrotechnic display.
She said the raffle drawing winner must be 18 years of age or older and must be present to win. Tickets are $3 each and will be available at the stadium from Lions members.
The raffle proceeds will be reinvested into next year's Independence Day program, she explained.
Bloomfield-Lange said the Sunnyside Lions Club has hired the Wolverine West Fireworks Company of Chehalis with Milt Brown of Selah as the head pyrotechnician for this year's show. On-site pyrotechnic specialist will be Jake Stuker of Selah.
"We are excited to have him as a part of our community celebration and he has promised Sunnyside a really exciting show," she said.
The Sunnyside Lions will again host the hotdog eating contest and last year's winners are welcome to defend their titles. There will also be a watermelon eating contest, as well as games for the kids of all ages. The games and contests will start at 5 p.m.
This year's stage entertainment includes karaoke and an open mic for any local talent wishing to take part. Dancers, singers and even magicians are all welcome, Bloomfield-Lange added.
The evening's program will begin at 8:30 p.m. with a 21-gun salute conducted by the members of the Lower Valley Veterans Color Guard.
"Again this year, our guest speaker will be Sunnyside Mayor Jim Restucci," Bloomfield-Lange said.
In addition, concessions and other vendors will be available, "…so pack a chair and a blanket and join us on Friday afternoon for an old-fashioned Independence Day celebration," she said.