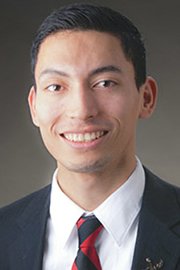 CHENEY – Francisco "Frank" Navarro, a graduate of Sunnyside High School, was named a student representative to the Eastern Washington University (EWU) Board of Trustees.
The appointment by Gov. Jay Inslee took effect last Tuesday, July 1, and will continue through June 30, 2015.
Navarro is a first-generation college student who previously served as the executive vice president of the Associated Students of EWU. He will graduate next June with a BA in computer science.
"I believe my student experience will be of great service to the mission and goals of the board of trustees," said Navarro. "I hope to work with the board to ensure the overall success of all Eastern students, and find ways to improve retention and graduation rates at EWU."
In addition to his duties at Eastern, Navarro is a board member for the statewide Latino educational Achievement Project and has served as chair of the M.E.Ch.A. student chapter at Eastern. He is also the past recipient of the Google Scholarship and Microsoft Academic Scholarship.
Trustees on the board work with the EWU president to set the strategic direction of the university and help ensure that EWU is academically and financially accountable and successful.