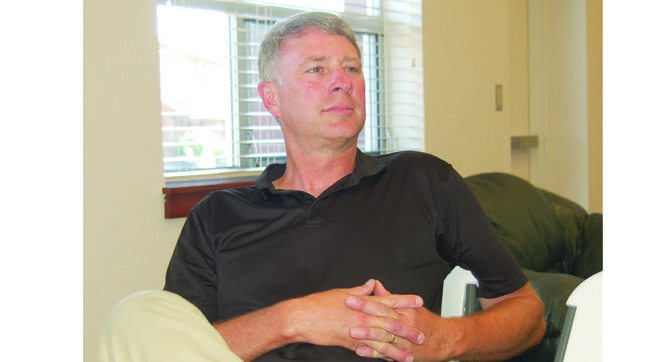 Sunnyside's crime free rental housing program is working, according to police officials who presented an overview and update on the program to the city's subcommittee on public safety yesterday afternoon.
Police Chief Al Escalera and Commander Phil Schenck provided the committee with basic statistics on the program.
The city's law is mandatory. All landlords must be signed up for the program, which is free if the landlord attends a training session once every two years. The penalties for not signing up include fines and possible jail time.
"This is not a voluntary program," Schenck said. "This has real penalties."
He said landlords include everyone from a parent renting a room to their child to an absentee landlord living in Seattle. The law requires all of them to be signed up so police know when they respond to a call if the location is a rental.
Schenck said when the law was passed in 2010, he consulted with landlords throughout the city to make sure the requirements were not a burden. Schenck also said he did a lot of research into similar laws around the state to see what worked and what didn't.
The city also made sure to pass the law before a new state law went into effect that year that would have prevented Sunnyside from making the program mandatory.
"We had to get it done," said Schenck.
"When other agencies ask how they can get the same program I have to tell them it is too late now."
In addition to a two-hour training session once every two years, landlords are required to have their tenants sign a crime free agreement addendum and to perform background checks on the applicants.
Instead of having to pay for a background check, landlords can ask potential tenants to go to the Sunnyside Police Department and get a free local background check. The sealed documents are then turned over to the landlord by the potential tenant, fulfilling that part of the program without an extra burden on the landlord's part.
Schenck said that local landlords have supported the program.
"We don't have any complaints from landlords anymore," said Schenck. "We did when we started, because people were worried it would be more trouble than it turned out to be."
Since the law was passed on June 21, 2010, the police have responded to 3,849 calls to known rentals. Police have issued 105 formal notifications of violations to landlords. Generally the problems are dealt with by the landlords quickly, according to Schenck.
Violations occur when a tenant breaks a law. In particular, police monitor rentals for gang activity, prostitution, assault, theft, burglary or threatening behavior. If a landlord receives a notice of violation from the police, the landlord can serve a notice to the tenant to comply with the law or be evicted.
Tenants also have an appeal process they can follow if they receive a violation notice. Schenck said while he was serving as chief he granted some appeals and never had problems with those renters again.
"Usually it is somebody else staying at the rental temporarily," said Schenck. "Once a tenant realizes they won't be able to rent in Sunnyside if they don't comply with the law, they make sure problems don't happen again."
He did note that the city is not at full compliance. There are still rentals whose landlords have not registered. Schenck estimated that the city is at about 78 percent compliance.
"We've hit all the low-hanging fruit," he said. "Even the mid-hanging fruit."
Officers continue to look for unregistered rentals, and notify the landlords of potential penalties when such rentals are found.
"We think it's worked very, very well," said Schenck.
He also addressed issues the city has with getting local motels to comply with the law and with occupancy laws in general, and suggested a possible solution might involve revoking business licenses of problem properties.
Schenck also noted that the city has laws on the books to handle nuisance properties that are owned by the people causing the problems. He said the city has not used the law but is ready to if necessary.