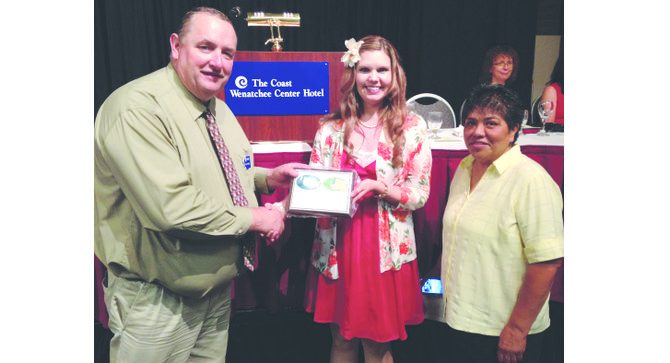 WENATCHEE – Last week Mabton's Randi Krieg was recognized as Washington state's Young Agricultural Teacher of the Year at a confab in Wenatchee.
Krieg has been teaching animal science, veterinary technology, horticulture, greenhouse, floriculture, landscape, agricultural biology, metals and junior high exploratory agriculture to students in Mabton for the past five years. She also serves as the Mabton Jr./Sr. High School FFA advisor.
She attended the conference hosted by the National Association of Agricultural Teachers, which lauded her with the award for young teachers.
"I believe that the teaching and learning process is a partnership between the teacher and the students," said Krieg.
She said a teacher should encourage students through expectations.
"The teacher should focus on promoting self-instruction from the students rather than the students relying upon the knowledge of the teacher," said Krieg.
In this way, students can take responsibility and ownership of the learning process, she explained.
Because she believes each student is capable of learning, Krieg said she provides them opportunities to be successful.
"You must believe in learning by doing," she said, noting she uses a variety of resources within the schools and the community to give students the opportunities to practice what they learn.
Using hands-on approaches to the learning process, Krieg said, teaches students the concepts of agriculture with a working knowledge "…in order to ensure they will retain the information they have learned."
In addition, Krieg requires students to develop and complete a supervised agricultural experience project. The students are involved in job shadow opportunities, industry tours and learn from guest speakers.
She said the projects are exhibited in August, September and May at three area fairs and livestock shows.
The projects completed last year involved more than 230 students, who put in 2,140 hours worth of time while earning more than $26,500 last year.
In addition, Krieg has increased membership in the Mabton High School FFA chapter over the past five years. The chapter had no dues paying members when she began teaching at the school. The number of students who were paid members at the end of her first year totaled 83. There were just about as many students involved in FFA this past academic year.
Implementing career development events into the curriculum and encouraging students to participate outside the classroom helped drive membership in the FFA chapter, according to Krieg.
The students have competed at various levels, including at the national level, earning awards for their accomplishments via involvement in the programs.
"The Mabton School District is the heart of our community," said Krieg. Because of the community support, students have been able to develop positive relationships, as well as a better understanding of the world around them.
In turn, she believes the students are better prepared for life beyond the classroom.