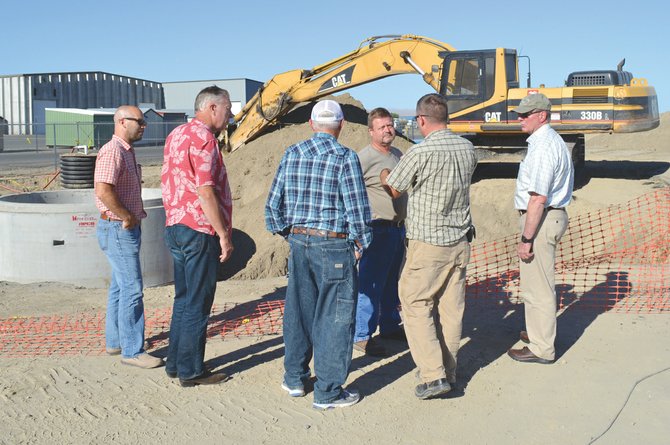 A daily convoy of 110 to 130 truckloads of rocks and dirt to build the lagoon for the Port of Sunnyside's new anaerobic digester is coming to a close.
That's according to the port's maintenance manager, Travis Jansen, during a report to port commissioners last night.
Jansen said a total of 4,600 truckloads are needed to construct the 20-foot high lagoon. During the port commission's meeting Monday night, he said the rock deliveries will wrap up by the end of next week.
He noted the change to crushing rock on the port's site near Midvale Road is working well.
The port's subcontractor on the project initially crushed the rock at its source in the Snipes Mountain area until Yakima County officials intervened.
Aside from dirty roads due to the haul of rock and dirt, Jansen said there have been no complaints. He added that Sunnyside city officials have been communicating with the subcontractor about making sure water is sprayed to keep the dust down.
In other business during the port commission's meeting last night, Executive Director Jay Hester announced that Eric Harwood of Prosser has been hired to work in the port's lab on Midvale Road. Harwood has a background as a soil scientist, said Hester.
Port commissioners also held an executive session last night on real estate matters, but no action was taken afterward.
Last night's port commission meeting was the first of four to be held on-site at the port's operations office at Midvale Road. The other three will be the first meetings in August, September and October.
The commission's next regular business meeting will be Monday, July 21, at the port's administrative office at Golob Landing.