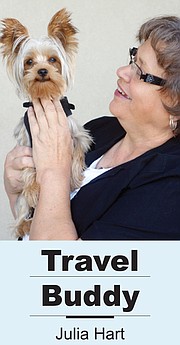 Buddy and I have been having some very serious discussions about car rides these past few 90-degree days.
He is literally begging for a ride, but I can't in all good conscience take him anywhere during the day. I don't think he even realizes how hot it would be for him.
Buddy would love to go for a ride in the van, but I keep insisting that it is just too hot for my darling boy to do any day traveling.
I regale him with all kinds of horror stories about his canine peers, who have perished in cars because their humans forgot that dogs don't sweat and cars retain heat.
So what if pet owners leave the windows open a crack? Don't they know how hot it can still get inside of that metal furnace?
A little dog like Buddy would cook if left inside a car on even a 73-degree day, because it can get up to 120 degrees in as little as 30 minutes inside a car.
Imagine how awful it would be to come out of the nice cool mall after a few hours of shopping to see your little "buddy" keeled over inside your car. Cracked car windows are not going to help much.
On 90-degree days, the interior of the car can reach 160 degrees. Even dogs who are allowed to ride in the back of their owners' pick-up trucks run the risk of heat stroke. Not only is this a dangerous practice, your dog is in danger of over exposure to heat with the added danger of burnt feet on the truck bed.
I just don't want to run the risk.
Buddy and his doggie pals, Winston and Georgia, are happy to be inside our air conditioned house with only short jaunts outside to do their business.
And, even Buddy would caution you to be equally caring of your feline pals. They are just as fragile in the heat.
As the temperatures are expected to only get hotter this week, I just want to emphasize one simple thing about dogs and car rides in the heat of the day.
Don't do it. It is against the law and it is considered cruelty to animals.
And none of us want to be guilty of that.