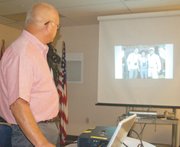 Even in the dry season it rains a lot under the jungle canopy that lines the shoreline of the Amazon River.
The South American jungle is filled with more than 3,000 different varieties of birds and untold numbers of insects and assorted other wildlife.
"I don't remember their names," admitted Ivan White, who along with his wife Terri, as well as Gene and Mary Anne Bliesner traveled to the head of the Amazon this past May.
The Sunnyside couples spent three weeks touring South America, including the ancient ruins at Machu Picchu in Peru and the Galapagos Islands.
This past Wednesday morning, Bliesner and White shared some of their experiences with fellow members of the Sunnyside Daybreak Rotary Club.

"We spent a week traveling though the Peruvian Amazon River Basin," said Bliesner.
He said the amount of water that flows through the 2,300-mile long river basin "…makes the Columbia River look like a creek."

"It rains 250 days a year in the Amazon jungle and we were there near the end of the rainy season," he added. "The humidity and temperatures were both very high," Bliesner added.
The Whites and the Bliesners flew into Lima, Peru for the first leg of their South American adventure in early May.
"We got there at midnight but there were still a lot of people out," said White.
The couple flew to Iquitos, the largest inland city in Peru, for the first leg of their trip down the Amazon.
"You can only get to Iquitos by air or boat," explained Bliesner.
The two couples traveled the river via a triple decker river boat, but took daily trips to the shores of the Amazon in motorized boats each day for closer looks at the villages along the river and to see up close the local fauna and fowl.

They ended their river cruise in Bretana, Peru, located more than 180 miles downriver from Iquitos.

Among the scenes that struck the couples as beautiful were the amazing sunsets on the river, the sheer size of the river and the people who lived in the nearby villages.