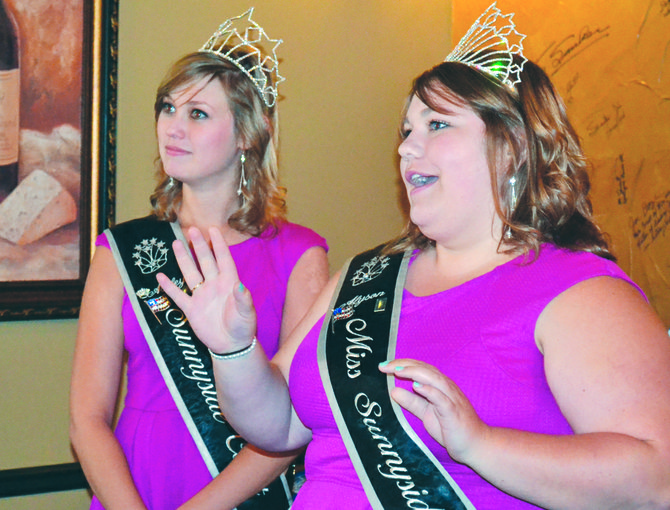 From rubbing shoulders with community leaders to entertaining a class of pre-schoolers, the 2013-14 Miss Sunnyside Court has done it all.
In just three months, the young ladies will wrap up a year-long reign.
"It's kind of sad," Miss Sunnyside Alyson Spidle told Sunnyside Kiwanis Club members this morning.
But the purpose of the court's Wednesday morning appearance wasn't to mourn the approaching end of its tenure, but to celebrate accomplishments.
A highlight for the girls over the past nine months was building and displaying the court's award-winning, Egyptian-themed float.
The float has garnered awards at all 12 parades it has entered, with eight still to go before October. "We're keeping a countdown," smiled Princess Ashley Davis, the other court member in attendance this morning.
Spidle and Davis described how they and their families started with a blank slate in creating the float, tearing down the previous court's float to start from scratch.
"We watched it go from a flatbed to a float," said Davis.
Spidle said ideas for their float were submitted by the Miss Sunnyside board. The girls decided which design to pursue.
From there, Sunnyside High School classmate Timmy Martinez drew up a sketch for the float design. That led to a scale model of the float using a shoe box.
It took a team effort to go from flatbed to float. Likewise, it pretty much took a team effort for the girls to reach their other accomplishments over the past nine months.
That included fulfilling Spidle's community service project vision of assisting the Special Olympics program. The events the court helped put together included a local track meet, attracting athletes ages six to 53. "We made some good friends," said Davis.
Spidle said she pursued the Special Olympics as a project because she has a cousin who is permanently disabled due to a sports injury.
The reign as Miss Sunnyside was also fulfilling, says Spidle, because of the interaction it gave her with the community. She noted the Sunnyside Chamber of Commerce's awards banquet was an eye-opener. "I never realized all the cool stuff people are doing," she said.
Overall, the past nine months have been much work for the court, but very much worth it.
"I've had a great year," Spidle told Kiwanians. "The experience makes you grow up."