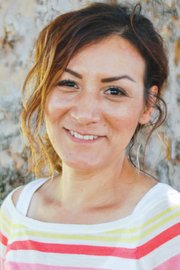 Age: Forty-something.
Spouse: No other half.
Children: Two girls, one boy. Love them to the moon and back.
Occupation and place of work: Middle school teacher.
My favorite part of the Yakima Valley is... agriculture and the four seasons.
When I was a child, I wanted to grow up to be... fashion merchandiser.
First job I ever had was... secretary at the unemployment office.
If a movie was made of my life, the actor/actress I'd want to play me is... J.Lo (Jennifer Lopez).
The best gift I ever received was... love from my family.
The best piece of advice I ever received was... we have the power to create our own story.
My favorite dessert is... anything chocolate.
One of my most memorable moments, besides getting married or having children was... all the childhood adventures my parents took us on.
If I could witness any event past, present, or future, I would want to see... Jesus, preaching.
I'd love to learn how to... rock climb.
The furthest I have been away from home is when I went to... Texas.
My favorite leisure activity or hobby is... being active.
If I didn't have to worry about money, I'd spend my time... working with youth.
The one word that best describes me is... stubborn.
If I could change one thing about myself it would be... nothing.