WORDS FROM WASHINGTON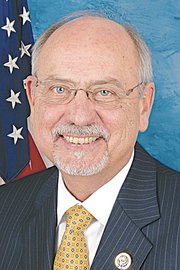 Every day I hear from hard working people in Central Washington who are struggling to support their families and put food on the table. They are frustrated with the state of our nation's economy.
Overall, Americans' take home pay is dwindling and they're falling further and further behind due to the higher cost of living.
Realizing the discontent of the American people, President Obama attempted to put fears to rest by declaring the 2010 summer as the 'Recovery Summer' – a time when Americans would begin to see robust job growth, the benefits of the economic stimulus and bailouts, and recovery would sweep across the country. That was four years ago.
Four years after the 'Recovery Summer,' the American people continue to experience the worst eco-
nomic 'recovery' ever. Under President Obama, nearly 10 mil-
lion people are still out of work today and our nation's unemployment rate has hovered at or above 6 percent for the past six years.
For the 49th time in 50 months, more people gave up looking for work than those who found a new job.
Making matters worse, the United States' economy shrank at an annual rate of 2.9 percent – the worst economic decline since the first quarter of 2009.
American families are being stretched thin by a weak economy, stagnant wages and higher costs on everything from groceries to health care to gasoline. It's natural for hard working Americans to think, "I don't have confidence in how the government is spending my tax dollars. I'd rather hang on to what I've got."
What Washington D.C. Democrats have failed to realize is economic recovery does not come from government bailouts and stimulus spending. True recovery comes from common sense solutions to help the private sector grow jobs.
In stark contrast to the Obama Administration's approach, House Republicans continue to make hardworking taxpayers' priorities our priorities. The House has passed bill after bill to create more jobs and jumpstart the economy – allowing people to keep more of their hard-earned money and creating more opportunities for working-class families.
Unfortunately for the American people, Senate Majority Leader Harry Reid and his Democrat colleagues have refused to consider the more than 40 House-passed jobs bills.
Disappointing economic growth in the first half of 2014 underscores the need for the Senate to pass these pro-growth bills that would increase American energy production, provide much-needed relief to small businesses, expand educational opportunities and allow our manufacturers to compete across the globe.
Four years later, the 'Recovery Summer' still feels far from complete. It's time for a change from the last six years of President Obama's failed economic policies. We need a strong economy to get Americans the good paying, full time jobs they want and need.
It's time for President Obama to call on the Senate to act on these pro-jobs, pro-growth bills.
‑ U.S. Congressman Doc Hastings (R-Pasco) represents Central Washington's Fourth Congressional District.