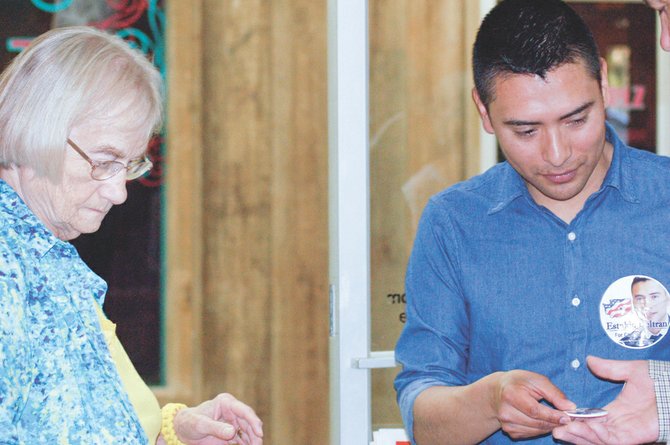 Seeking to change the way voters look at Central Washington politics are four candidates as vastly different as their ages. From a former teenage mother to a foster child, to an army veteran and a retired auditor, all want to change the "business as usual" climate they feel is stunting progress.
The four candidates spoke of humble beginnings and years of hard work as they addressed the more than 25 people who attended the candidates forum sponsored by the Democratic Party held last night at Sunnyside's Conquistador Restaurant.
Each candidate took time to meet attendees personally as well as give a formal stump speech. The audience also had time to ask questions of each candidate.
Present at the meeting were Earl Hall, who is campaigning for Yakima County auditor; Gabriel Muñoz, running for the 15th District Senate seat currently held by Jim Honeyford; Teodora Martinez-Chavez of Outlook, running for the 15th District Representative seat held by David Taylor; and Estakio Beltran, who is running for the soon-to-be vacant Fourth Congressional seat now held by Doc Hastings.
Hall, running as an independent, was the first to speak. He emphasized his education and previous experience as an auditor and said the county needs educated givers and not uneducated takers in positions of leadership.
Hall told the crowd that his parents were both manual laborers who worked hard to give him a better life. He said he became an auditor in 1973 after attaining a college education and professional experience, passing the national test and subscribing to a strict code of ethics.
Hall said he refuses to pollute the landscape with political signs, noting that one of his opponent's signs in Yakima has already been tagged by graffiti and no effort has been made to clean it up.
He encouraged voters to read about all candidates and make their choices based on the qualifications and experience of the candidates.
"Other candidates offer you promises," he said. "I offer you proven results."
Muñoz spoke next, telling the audience about a recent experience registering people to vote in Yakima. He said that going door-to-door and talking with people is hard work, but people need to be convinced that their vote matters.
"If all Hispanic citizens voted, the district would turn blue overnight," he said.
Muñoz said his parents migrated to the United States to give their children a better future. After living in Los Angeles, the family came to Wapato to pick cherries on an uncle's farm.
"I learned about hard work," he said. "It was a great learning experience for a kid from the city."
His parents started a restaurant in Wapato that he worked at before enlisting in the army, where he gained leadership skills. After his military service he married and went to Central Washington University where he was elected student body president and lobbied in Olympia for lower tuition.
His wife recently had their first child, an event he described as life-changing.
"Now I know why my parents worked so hard," he said. "I believe I am living the American dream."
Muñoz became a bank manager at US Bank and now works at People for People as an outreach coordinator.
In his current job, Muñoz said he's seen many senior citizens and veterans who go without meals or have no place to live. He believes that needs to change.
He also said the District needs a good transportation system.
"If you don't have a vehicle in the Valley, you are stuck at home," he said. "It's hard to get to work without a vehicle."
He said he thinks these are problems that can be solved, but the District needs someone in Olympia who understands the area.
At an audience question, Muñoz said he supports gun rights and believes that people need to be fully educated before making laws that limit gun ownership.
Martinez-Chavez said she has been a tireless community activist for the last 20 years, involved in a variety of agencies in the Lower and Upper valleys.
She said she's lived in the area for 48 years. Her farmworker parents migrated from Mexico and she was actually born in Texas before they came to this area. She was a teen mother, raising a son and a daughter as a single parent.
Martinez-Chavez said that as a volunteer she's seen too many services not provided that are badly needed. She wants to step up and help.
She believes in quality education from pre-school to college, saying that she has conducted home visits to help Spanish-speaking-only parents get their children ready for school. She is also a radio personality, having started by reading children's books in Spanish to families, then reading them on the air.
She believes that military veterans need to be able to get health care locally and that senior citizens should have better coverage via Medicare.
Martinez-Chavez also argued that taxes on businesses should be level.
"Right now small businesses are paying more in taxes than large corporations," she said. "That doesn't seem fair."
She also said she supports positive activities for children that they can participate in without having to pay. As a single mother, she said it was sometimes difficult to come up with the fees required for her children to join in sports.
Arriving late to the forum due to another event in the Tri-Cities, Beltran spoke last, taking up the final 30 minutes of the two-hour event.
A polished speaker, Beltran said he grew up in foster care in the Yakima Valley, including time in Sunnyside. He finally found a stable home at age 17 and worked as a farmworker before attending Gonzaga University. He graduated in 2005 with a double-major.
He became an assistant to Sen. Maria Cantwell in 2005.
"I sat next to her in every meeting, read every memo before she did," Beltran said. "Regardless of your thoughts on her personally or politically, she works hard for her constituents."
After two years working for Cantwell, he moved to the office of Congressman Dennis Cardoza (D-CA), where he put in another five years learning Washington D.C. politics. He said the time in that office, including time working for Cardoza's campaign, taught him about bringing people together.
Beltran then attended Columbia University in New York City and earned a Master's in public administration.
He told the forum attendees that he's the only candidate with experience in the capitol. He said he also knows the issues of this area and how important the federal government has been to the area. He noted that without federal investment, the irrigation projects could not have been completed.
"Irrigation is why we are here," he said.
He also pointed out the economic impact of Hanford, stating that the government needs to make sure it is cleaned up and that it will generate the jobs of tomorrow.
Beltran said he wants to invest in education so jobs that come to Washington state stay in Washington state.
He also said his first action in Congress will be to introduce a "no work, no pay" act that requires Congress to not get paid if the government shuts down.
"We don't get paid for not working," he said. "Why should they?"
Beltran said he wants to represent the Fourth District in Congress to give back to the people who worked to raise him. He said many strangers helped him along the way, and becoming an elected official is a way to pay society back for what it gave him.
Answering specific questions, Beltran said he believes students should be allowed to refinance student loans at a lower rate. He also said tax breaks should be given to middle class families trying to put their children through college.
Beltran also denied that the Affordable Care Act is a "train wreck" as described by one questioner.
"The Affordable Care Act is about expanding health care coverage," said Beltran. "Health care coverage saves lives. Are there things it can do better? Yes. We're going to strengthen it, make it better."
He said people who want to repeal it have not offered a better alternative.
"The purpose of government is to do collectively what we cannot do as individuals," he said.
As for the Veterans Administration, Beltran argued that the president should issue an executive order that all veterans can get health care at any medical facility and will be reimbursed for it.
He said he believes Congress needs new blood. He thinks people who know how to earn a day's wage should be in office.
"I'm going to earn your vote," he said. "The minute I lose sight of that, I hope you give me the boot."