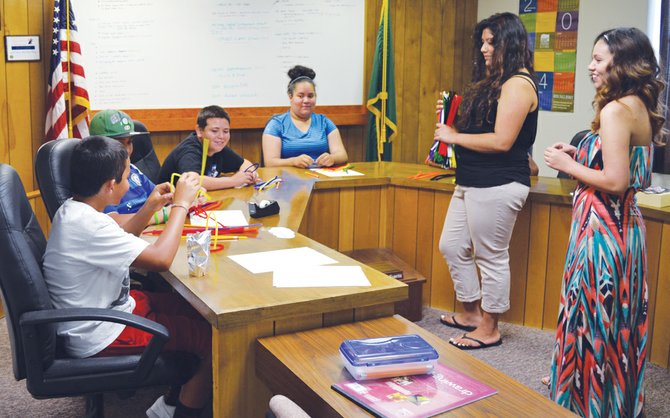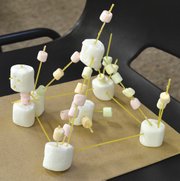 MABTON – You can learn a lot from pasta, marshmallows and pipe cleaners.
Just ask Mabton children participating in the city's first-ever STEAM program.
This is the second week of STEAM, offered by city summer interns Yarelly Gomez of Sunnyside and Vanessa Sanchez of Mabton.
Both will be sophomores at the University of Washington this fall.
Sanchez explains STEAM expands the concept of STEM (science, technology, engineering and math) to also embrace art.
She says including art allows the K-12 program to reach more children. "We want them to be engaged and see there's a bigger world of opportunity."
Gomez and Sanchez teach separate classes each week to students divided into separate age groups. This week's lessons, for example, are focusing on engineering.
Elementary school children were challenged to erect the biggest standing structure they could using pasta and marshmallows. Middle schoolers faced the same challenge, but using pipe cleaners. Later this summer there are plans to take engineering outside and launch rockets.
"It's pretty fun. We talk about college and what we can do in the future," seventh grader Tony Meza said of STEAM.
Gomez and Sanchez say they want to reach more middle schoolers and especially high school-aged students. There are about 15 or so Mabton youth who participate in STEAM, but few are from the high school.
They have attempted to stagger the activities, working with high school students in the afternoons to meet their schedules. Other days they meet in the mornings to accommodate schedules of parents with elementary and middle school children.
It's the first year of the program, and the UW students are reaching out to colleges for help in sustaining STEAM beyond this year.
"We want to be an asset," says Gomez. "We want to build a foundation for the future."
Sanchez sees possibilities for STEAM to partner with other communities such as Sunnyside and Grandview to offer the program in those communities.
Both indicate they would like to return to Mabton next summer as office interns and STEAM mentors.
First, there's this summer and the quickly approaching 2014-15 school year.
Gomez says she'll be a different student on the UW campus this fall thanks to involvement with STEAM.
"It's really helped me to see the big picture," she says. "I realize I'm not just a student on a college campus, I'm part of a community. I can make a difference."
For details or to sign a child up for STEAM, call Gomez or Sanchez at Mabton City Hall, 894-4813.