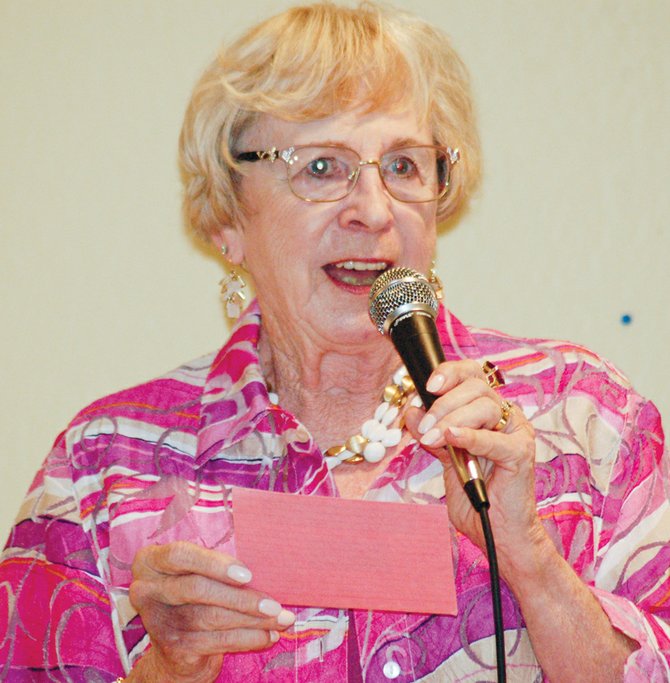 PROSSER – Nancy Stolz of Tacoma has experienced a number of challenges throughout her life.
She was the featured speaker this past Tuesday at the Christian Women's Connection meeting in Prosser.
Since her teen years, Stolz said she has been able to meet those challenges through her faith in God.
When Stolz was young, her family moved several times. She said the family lived on a farm when she was just five-years-old.
There were 3,000 laying hens on the farm and Stolz was responsible for gathering eggs, getting her hands hen-pecked in the process.
After she and her father were hospitalized several times, they were diagnosed with asthma that was triggered by the chicken feathers.
The family moved from a farm to another home after the diagnosis.
Stolz said her family moved often because her father flipped houses.
"It was okay…I always had friends," she said.
Stolz said the one issue is that she doesn't have the type of friendship like others do…one where there is a longtime shared history.
Shortly before she entered high school, her family was visiting with another family. She was introduced and one of the adults made a statement that caught Stolz by surprise.
"So she's the one you adopted?"
Stolz said she didn't know she was adopted. She withdrew and decided not to ask questions. Her parents assured her they would tell her about her adoption when she had her 15th birthday, but that didn't happen.
She said her parents kept putting it off and she began to doubt her worth, thinking no one would want to marry her because she was adopted.
"On the inside I was dying…other babies are worth keeping. Why wasn't I?" she questioned.
It was when she was 15 that Stolz was invited to attend a Sunday evening service at a friend's church.
That experience planted a seed for her. The minister, she said, talked about scripture from Romans 3:23, citing, "All have sinned and fallen short of the glory of God."
Stolz said she didn't think of herself as a sinner. She wasn't a murderer or a thief. She didn't commit any of the "big sins."
She continued to think about what the minister said and realized he had said "ALL have sinned."
Stolz said this message wasn't spoken of at her own church, but the minister at her friend's church continued the message the following week, explaining what sin was and reading the rest of the verse. He also explained that redemption comes from Jesus Christ.
She said she decided to confess her sins, accept the relationship offered and change her life.
"I went from churchanity to Christianity," said Stolz.
That decision, she said, helped her deal with many changes in life.
Stolz met her husband, the best friend of a boy whom she dated while attending her friend's church.
The pair married and soon after purchasing their home, became part of Youth for Christ, hosting events for the youngsters involved in the group.
She found herself accepting the imperfections in life, primarily holes in her carpeting.
Stolz was also able to take on some of life's challenges, such as appliances breaking down while her husband was away.
As she got older, she occasionally thought about finding her birth mother. When she finally made the decision, she wrote to the woman but didn't hear from her for a couple of years.
Meeting her birth mother, said Stolz, "…wasn't an Oprah moment."
She said she also met a half-sister who accompanied the woman, who was in her 80s.
"Meeting them was nice…I thought they would make nice friends," said Stolz.
She said she learned the story of why she was given up for adoption and has a better understanding of life situations because of the knowledge.
It was when Stolz was 59 that her faith was tested further. She wasn't able to contact her husband who was away on a business trip.
"We were always able to find each other," she said.
On that particular day Stolz didn't know why he wasn't answering her phone calls until she arrived home. There was a message on her answering machine, stating her husband had been in an accident and wasn't expected to live.
Stolz had to make the decision to disconnect life support and that was a difficult decision for her.
She said she had to lean on her faith and live the life she professed.
Now, more than 20 years later, Stolz said she continues to live the life of faith.
She said God helped her through the troubling times, helped her cope with difficult situations and made her stronger through it all.