RELIGIOUS REFLECTIONS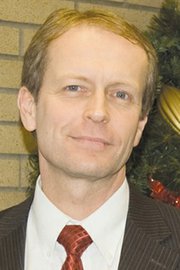 The purpose of my column today is to fully examine the principle of honesty, including the challenges of living this principle today, and the benefits we can receive from being honest as individuals, families, a nation and as Christians.
Gordon B. Hinckley, a prominent leader in our church, once said: "Without honesty, our lives and the fabric of our society will disintegrate into ugliness and chaos." He also stated that "…On Mount Sinai the finger of the Lord wrote the law on tablets of stone: 'Thou shalt not steal' And then that declaration was accompanied by three other commandments, the violation of each of which involves dishonesty: Thou shalt not commit adultery, thou shalt not bear false witness and thou shalt not covet."
Here he speaks not only of acts of dishonesty, but in the case of coveting, of thoughts that can lead to actions of dishonesty.
As with all principles of the gospel of Jesus Christ, the measure of our honesty is how we put it in practice every day.
Brigham Young stated, "We do not allow ourselves to go into a field to plough without taking our religion with us: we do not go into an office, behind the counter to deal out goods, into a counting house with the books, or anywhere to attend to or transact any business without taking our religion with us. If we are railroading or on a pleasure trip our God and our religion must be with us."
For those of us who are parents, we have an obligation to teach honesty not just through word, but also by example.
Dishonesty is not only about the thief who steals what is not his. It also includes unethical business practices, and the able-bodied idle who expect others to provide for their needs, even though they could do it through their own labor.
If we are to be truly honest, this requires us to not only be honest with others, but also with ourselves, and with our God. We cannot change ourselves until we are honest with ourselves.
Have you ever gone to a store and been given too much change? When I've returned it, I've noticed two different reactions. One is thankfulness, the other is surprise, especially if the amount is small.
It can be discouraging if you are taking a test at school, and you are doing it honestly, but you know others are cheating.
It could be difficult to give an hour's work for an hour's pay if your co-workers are lax about it, but as Christians, we are asked to be a light unto the world.
Our society pays a tremendous price for its dishonesty. The cost of everything we buy includes for each of us the burden of shoplifting.
The positive side of this is that there are tremendous benefits to us personally as we try to live the principle of honesty.
As children, we learned the stories of George Washington and Abraham Lincoln, among others, and their reputation for honesty. The importance of these men's reputations were significant and real.
In the case of General Washington, he inspired such confidence that he was able to lead a mostly untrained army of farmers and civilians to victory against the feared British Army. When the first American government was faltering, and a Constitutional Convention was proposed, the fact that George Washington agreed to chair it gave the American people confidence that it was the right thing to do.
Abraham Lincoln was known as "Honest Abe" because he would always tell the truth, whether it was easy or not. Many of us have heard the story of Lincoln as a store owner walking 5 miles to return 5 cents change to a customer, but there is a larger story there. He owned that store with another gentleman who drank their profits away. The business ended up going broke, and Abe was stuck with the bill of $1,100, much of which he wasn't really responsible for. It took him years to pay it off, but pay it off he did. This attests to the depth of his character, the kind of character that a nation could believe in and follow, even in its darkest hour and trial, the Civil War.
I'd like to return to the example of the honest student taking the test. Jesus Christ spoke about those who did things in the wrong way, and for the wrong reasons: Matt. 6:2 "Therefore when thou doest thine alms (or charity) do not sound a trumpet before thee, as the hypocrites do in the synagogues and in the streets, that they may have glory of men. Verily I say unto you, They have their reward."
What is their reward? The glory of men, but that's ALL they have.
Regarding the test-taking, I might say the following -don't cheat on a test to get a good grade. You have your reward. You may get a good grade, but that's ALL you have, because 1) you really haven't learned the material, which is the true goal, and 2) you have sacrificed your integrity.
It is my prayer that we may truly seek to be honest with others, with ourselves, and with our God, for honesty is truly the best policy.
‑ LaDon Linde is the bishop of the Sunnyside Church of Jesus Christ of Latter-Day Saints.
More like this story