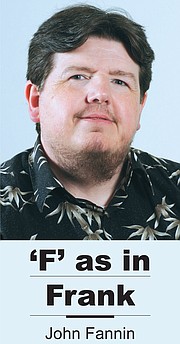 My name is John Fannin and I approve this column.
With that said, here's my take on the Yakima County sheriff's primary race.
To be honest, I'm still trying to get a handle on most of the county political races. The one where I feel some certainty is the five-way primary contest for sheriff.
Remember, the following is my opinion, not my employer's.
My choice for sheriff is Jim Keightley.
He has stated a willingness to put more deputies on the street without sinking to the verbal tit-for-tat on money we've heard too often between the current sheriff and county commissioners.
I like the fact he has plenty of law enforcement supervisory experience, and a stated desire to take a new approach in running the sheriff's office.
Much of his more than three decades in law enforcement is outside of county government, so he would bring a fresh set of eyes to the issues facing the department.
Lastly, I would vote for Jim because of a first-hand experience with him several years ago while he was still with the State Patrol.
I was working on a story on a sensitive topic regarding a State Patrol issue. It took weeks to research and one of my contacts was Keightley, then a lieutenant at the patrol's Yakima office.
He was forthright, direct and candid in his replies to me about an investigation the State Patrol dropped involving a trooper.
In my line of work I talk to a lot of people, sometimes it's hard to remember their names.
But I remember Keightley's name and his candor.
Here's hoping voters do when their ballots arrive this week.