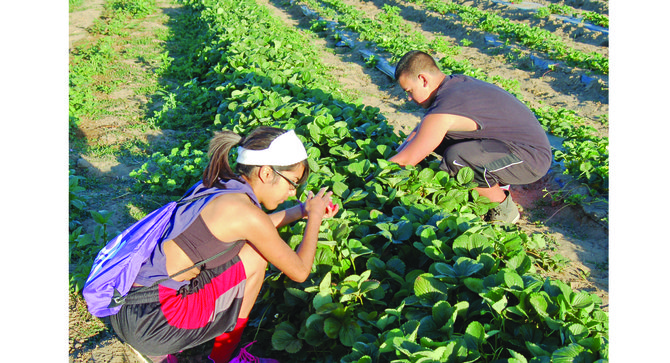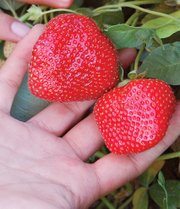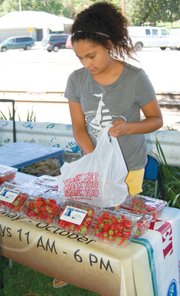 Before the heat of the day has reached the gardens near Sunnyside Christian Reformed Church, a group of young people are out quietly picking the strawberries that are practically bursting from the rows of plants.
"We are getting a lot of strawberries," said Tony Cardenas of Sunnyside Transformation Yakima Valley.
The strawberries are being picked by volunteers, mostly youth, who log community service hours by getting to the community garden patch between 6 and 8 a.m.
Monique Martinez was at the patch last Saturday to earn money for Young Life camp. She gets credit for every hour worked.
"I got up earlier when I picked cherries," she said. "This isn't difficult."
Working the other side of the row was Gage Arevalo, who was earning community service hours.
"It's not hard," he said. "Tony's good company and makes it fun."
Another worker, Jennifer Espindola, said she was volunteered by her mother.
Cardenas said more volunteers are needed. The group has been picking on Tuesday and Saturday mornings. Last Tuesday's crop was very large, according to Cardenas.
"We picked 44 boxes on Tuesday," he said. "We made up sample boxes and took them around to local businesses. Saturday's crop we can sell at the farmers market."
The harvest has been going on for two weeks and Cardenas said they've had between 50 and 60 volunteers in that time. Some adults have shown up to help along with the young people.
Later Saturday morning, Abigail Bravo was selling the strawberries at a stand at the Sunnyside Farmers Market across from the pool on Fifth Street. The piles of strawberries were a popular item.
Cardenas said the market sales are good, and the money goes to paying the cost of the plants, fertilizers and irrigation. People can also order strawberries to be picked up on Tuesday by calling 836-0115.